Ping4 closes $4m financing round to improve emergency alert app
Company founded by former senatorial candidate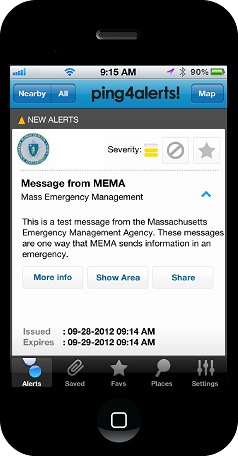 Ping4 Inc., the developer of smartphone alert apps headed up by former New Hampshire U.S. Senate candidate Jim Bender, just completed a $4 million fundraising round to help launch a new promotional campaign and enhance its product.
The two-year-old Nashua-based company raised the money from private investors, most of whom are local and based in New Hampshire, said Bender, its CEO. To date, it has raised nearly $7 million from private investors.
When the company first launched, its app was originally more focused on its retail arm — Ping4Deals — which would send users alerts when a nearby retailer was offering a discount on a product. Its focus is now primarily on its alerts app, Ping4Alerts, which alerts smartphone users when there are nearby threats to public safety, from natural disasters to crimes in progress.
A screenshot from the Ping4 app.
The app is free for iPhone and Android users, but agencies and other groups pay an annual fee to deploy the app based on the number of people within their jurisdiction. Among the groups that use it are the University of New Hampshire and the Manchester Police Department.
Type image credit here
Type image description here.
"We're working on developing relationships with state agencies, large counties, and large municipal agencies across the country and soon around the world," said Bender.
Bender acknowledged the challenge of getting users to download the app in the first place and said that's why the company has shifted its primary focus to emergency management rather than retail, since the agencies deploying the app are doing much of the legwork to encourage people to use it.
"The police departments feel they can get this out, and they have a lot of influence over their jurisdictions," said Bender.
So far, about 100,000 people have downloaded the app, said Bender.
The app is more powerful than traditional text message alerts, he said, because the alerts can be more information-rich and can be highly localized down to a specific room in a building.
"We've got the ability to put a rich multimedia message on a smartphone," said Bender. "By that I mean we can combine any combination of video, pictures, website, audio, text messaging, or any combination of these things simultaneously."
That's especially helpful for certain kind of alerts, such as Amber Alerts, where a picture of the missing child could be quickly disseminated to people within a certain radius of where he or she was last seen, he said. The app alerts them and lets them either call the agency or submit an anonymous tip, essentially turning the public into detectives for the police force.
"The future of emergency management is putting life-saving information into peoples' hands immediately," said Bender.