Personalized grocery delivery a growing trend at hotels
Who hasn't arrived starving in a hotel room only to be met with a binder full of takeout menus, and no room service to be found?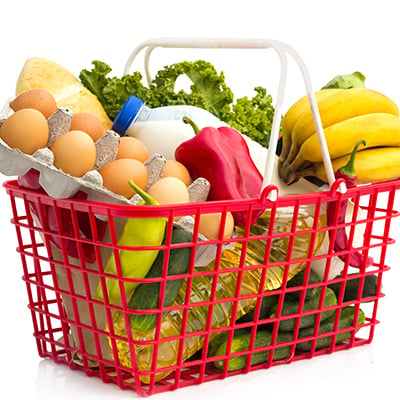 Customization is everywhere, from choosing the color and personalized greeting of your smartphone to designing one-of-a-kind handbags. So too is the emphasis on whole foods and healthy eating.
Marry those two ideals together, and you've got the hotel industry's hottest trend: Personalized grocery services that deliver exactly what guests ask for directly into their rooms.
Who hasn't arrived starving in a hotel room only to be met with a binder full of takeout menus, and no room service to be found? Instead of this hollow and lonely dining option, grocery delivery makes guests feel as though they're getting customized, personal service. It's a trend that's not only infiltrated large chain hotels, but also smaller ones too, including lodgings in New Hampshire.
"I find that hoteliers are having more of an attitude of wanting to identify what hotel guests' specific needs are, instead of an attitude of this is what we've got, whether you like it or not," says Matt Hesser, general manager of Black Bear Lodge, in Waterville Valley. "They're trying to be very responsive to anyone's needs."
Although grocery delivery services have been long-established at many extended-stay hotels, a new national trend is emerging, with smaller hotels, like Black Bear Lodge, adding a service that aims to make guests feel at home, even on the road.
The hotel grocery delivery service works in a very simple way: Guests provide a grocery list to the hotel, and someone on staff will take care of the shopping for them, stocking their cabinets and refrigerator with everything they've asked for.
At larger chains, the service is usually free; guests just pay for the cost of the groceries. Smaller hotels, like Black Bear Lodge, might charge a small percentage increase over the cost of the groceries.
According to Jonathan Newton, general manager at Homewood Suites by Hilton Manchester, business travelers use the service most often.
In fact, he says, 70 percent of Homewood Suites by Hilton Manchester's guests are business travelers, and they often don't have time to hit the grocery store after logging long hours in a conference room.
"We deliver right to their room, so when they come back to their room, they'll have whatever they need," Newton says. "It's always done that day, so it's ready when they get home from work."
Such a service makes sense for extended stay hotels like Homewood Suites. According to Christian Kuhn, vice president of marketing for Homewood Suites by Hilton, "Homewood Suites' average guest stays five-plus nights. However, it is quite common that our guests are with us for even longer, whether that means a couple weeks or several months."
In fact, Newton says, the average long-term stay — which accounts for 40 percent of guests at the Manchester property — is about 28 nights long.
Newton says business travelers are often in town to work on long projects, and eating out every night can get exhausting, not to mention expensive and unhealthy.
Newton suspects that the health angle is helping to boost the popularity and prevalence of hotel grocery delivery.
"People are getting more health-conscious, and I think that's what's driving it," he says. People most often ask for staples, like pasta and a certain type of cereal, for their rooms. It's also good for people who have dietary restrictions, Newton says.
Burgeoning trend
Diane Mayer, vice president and global brand manager for Residence Inn by Marriott, agrees.
"We know it's important for our guests to maintain their routine on the road, which includes eating right," she says.
Although both Homewood Suites by Hilton and the Residence Inn by Marriott, which have locations in Manchester and Nashua, respectively, have been offering grocery delivery for about a decade, Newton says most guests have never heard of the service before arriving at the hotel.
Newton says he's also noticed that recently the concept of grocery delivery is spreading beyond extended-stay hotels and into smaller, boutique or luxury locations.
In fact, industry media outlets ranging from Travel Weekly to MarketWatch.com jumped on the trend this fall after Affinia Hotels announced in late August that it would team with online grocer FreshDirect to supply grocery delivery to its Manhattan properties.
It's not just the chain hotels that are trying their hand at grocery delivery.
Waterville Valley's Black Bear Lodge started offering the service in the early winter of 2012 after finding that hungry travelers had no place to get food when they arrived late at night, especially with kids in tow. General manager Hesser says the only grocery store open late is 24 miles away from the secluded resort town. In addition, all the restaurants are closed late at night.
"It's a resort that's in the middle of the mountains," Hesser says, so guests liked the idea of having their condo unit's kitchen stocked with late-night eats before check-in.
Hesser was aware of the industry's burgeoning grocery delivery trend, so Black Bear Lodge started offering it, "to take that stress off the arrival," he says. "It was the families, the people with kids, who were really excited about."
However, Hesser says the lodge had to halt its program in April 2013 because of logistical difficulties. It ran into trouble coordinating price lists with its local grocery story partner. Cost-conscious guests wanted to know exactly what brands they were buying and how much they cost, but it was tough to keep them up-to-date when food prices fluctuate from week to week.
Hesser adds that the 10-page grocery list that they created for the program was "cumbersome."
"The requests for it were popular [but] it was inefficient to put pricing on the sheet," he says. "It made it very time-consuming for the grocer when market prices change."
Black Bear Lodge's experience highlights some of the challenges that smaller, independent hotels might face when trying to coordinate grocery delivery services of their own.
Hesser's background was in luxury accommodations, where guests are less concerned about smaller expenses, like the difference in price between a premium or store brand loaf of bread. Business travelers too, living on expense accounts, are likely than a family traveling on a budget to care less about a 50-cent price difference in their groceries.
But Black Bear Lodge's experience also shows the potential of a grocery-delivery service, especially for hotels in secluded spots like the White Mountain National Forest. Hesser is still enthusiastic about the program and aims to reinstate it by spring 2014.
"I think it will be a big hit once we can figure out the logistics of it all," he says.