Performance Sports Group scores in NYSE debut
Company formerly known as Bauer hits the ground running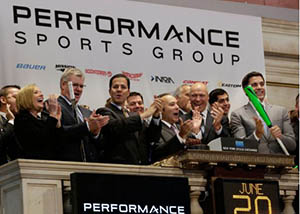 Exeter-based Performance Sports Group – known until last week as Bauer Performance Sports – has sprinted out of the starting gate of the New York Stock Exchange in its first U.S. public offering.
The Exeter-based company – whose stock is now traded on the NYSE as well as the Toronto exchange under the ticker PSG – started out selling some 7 million shares at $15.50, raising some $110 million. The price quickly jumped to about $16 a share and closed at $17 on Monday.
CEO and New Hampshire native Kevin Davis got to strike the opening bell on the NYSE, while at the same time showing off a baseball bat with a rotating handle, a product acquired in April when PSG bought Easton-Bell's baseball and softball business for $330 million.
The deal resulted in a combined company with about $593 million in annual sales, and some $95 million in adjusted earnings based on recent filings of both companies. But it was deeply in debt and low on cash, and the IPO was meant to rectify that.
The name change also shifts the emphasis away from its roots. Bauer was founded as a hockey company in Canada in the 1920s, only moving to New Hampshire in 2002, after Davis took over as CEO. While it will still sell hockey equipment under Bauer brand and still trade on the Toronto exchange as well, the company marked has shifted to the united states with the acquisition of Easton as well as the purchase of several lacrosse companies. Davis told The Street that Lacrosse sales have increased by 10 percent.