People and Property: Real Estate and Construction News Rundown
Hall elected Normandeau board chair, Swan Chocolates building sold … and more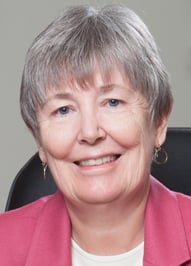 Pam Hall of Portsmouth, president and CEO of Normandeau Associates, Bedford, has been elected chair of the company's board of directors.
Hall has been president of the company for 28 years. She has been instrumental in leading the effort to develop the company from annual sales of $2.5 million to $29 million, with clients around the U.S. and internationally.
Franklin Savings Bank is financing a $2.8 million construction loan for the development of a 29-unit, mixed-use townhouse/office real estate project located at 44 Portland Ave. in downtown Dover.
Changing Places LLC is developing the project, which is expected to be complete by year end.
The finished project will feature two buildings situated on a .803-acre parcel. One building will include 10 retail/office rental units on the first level and 10 townhouse-style apartments. The second building will contain nine townhouse apartment units.
Langley Construction, Goffstown, has announced completion of Mast Road Self Storage, a climate-controlled storage facility in Goffstown.
Located at the corner of Mast Road and Tatro Drive, the facility features some 400 units.
The sale of the 4,168-square-foot former Swan Chocolates building at 436 Daniel Webster Highway, Nashua, has been sold to Buckley-Abbott LLC has been announced by Mark Prolman of Prolman Realty Inc., who represented the sellers, Anderson Sweet Properties LLC.
The new owner plans on utilizing the building as a bakery and kitchen facility for Michael Timothy's Dining Group, owner of four Nashua area restaurants.
According to the Hillsborough County Registry of Deeds, the selling price was $440,000 for the real estate and $25,000 for the business property.
Warrenstreet Architects was among the winners of the 2015 Cornerstone Award for Social Responsibility presented annually by New Hampshire Businesses for Social Responsibility
Among Warrenstreet's pro bono work has been work on the Concord Friendly Kitchen, The Girls Inc. Building on Hope project, the NH State Veterans Cemetery Army Monument and the Kroll House Building on Hope project.
The Grafton County Economic Development Council has named Chris Wellington as its CEO.
As CEO, Wellington will be responsible for the overall strategic direction of the organization, including the management of all loans, workforce programs and oversight of two business incubators owned by GCEDC, the Dartmouth Regional Technology Center and the Enterprise Center at Plymouth State University.
Wellington succeeds Mark Scarano, who was appointed to co-chair the Northern Borders Regional Commission.
Wellington previously worked for the NH Division of Economic Development as a business resource specialist and at the City of Manchester's economic development office.
TFMoran Inc. has donated $5,000 to NeighborWorks Southern New Hampshire. Dylan Cruess, chief operating officer of the engineering firm, and Robert Duval, president, presented the check to Robert Tourigny, executive director of NeighborWorks Southern New Hampshire, at TF Moran's offices in Bedford.