People and Property: Real Estate and Construction News Roundup
NH Good Roads officers elected, Brookstone awarded BA Distributors project … and more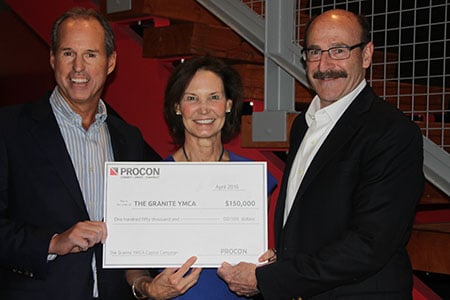 The NH Institute of Art has announced the opening of its remodeled Sharon Arts Center Gallery in Peterborough.
Slated for completion in early May by Manchester architect Dennis Mires and builder Hutter Construction of New Ipswich, the gallery features new walls and floors, better flow and museum-quality lighting. A reception will be held from 4 to 7 p.m. Friday, May 13.
Sarnia Properties Inc. of Portsmouth has acquired the newly developed Tractor Supply store at 1547 Greenland Rd. in Greenland. Maxine Kenny of Colliers International|New Hampshire's Portsmouth office represented Sarnia and Michael O'Mara of Atlantic Retail Services represented the seller, Thurken IV LLC.
James Kenny, president of Sarnia, said that he is trying to improve the quality of his portfolio in terms of location, tenants and leases. "This often means accepting lower returns, partially offset by easier management duties and lower tenant turnover. The new Greenland Tractor Supply met all of these objectives in an area we know well. We have a lot of confidence in the Seacoast market and its ability to weather economic hiccups."
According to the Rockingham County Registry of Deeds, the selling price was $4,366,052.
Brookstone Builders Inc., Manchester, has been awarded a renovation project by BA Distributors of Manchester. The project includes demolition and renovations at SNG Barratt Group, a classic and modern Jaguar parts distributor located at the Auburn Traffic Circle in Manchester.
Jack Boardman is Brookstone Builders' project manager for the project. Electrical work will be done on a design-build basis through Titan Electric of Manchester.
Raymond-based Jewett Construction Co. has completed work on two O'Reilly Auto Parts stores, including construction of a new, ground-up facility in Milford, Mass. and renovations to an existing store in Augusta, Maine.
Peter Morton has been named north regional sales manager of Structures Unlimited Inc., Bow, a maker of energy-efficient, diffuse-light-transmitting skylights, enclosures and natatoriums.
Officers and directors for the 2016-17 year were recently elected by the NH Good Roads Association.
Officers elected were: president, Carl Beauregard, Beauregard Equipment, Concord; vice president, Paula Cantara, The Rowley Agency, Concord; secretary/treasurer, Brian Good, Busby Construction Company, Atkinson; and past president, John Bousquet, R.M. Piper Inc., Plymouth.
Directors are: Sue Merrill, F.L. Merrill Inc., Loudon; Ryan Audley, R.S. Audley, Bow; Adam Bates, Weaver Brothers Construction Co., Bow; Bill Boynton, NH Department of Transportation, Concord; Joe Downing, Everett J. Prescott, Concord; Jeff Foote, town of Bedford; Randy Mace, Chadwick BaRoss, Concord; Larry Major, Pike Industries, Belmont; Paul Busby, Busby Construction Company, Atkinson; Chris Mulleavey, Hoyle, Tanner & Associates, Manchester; and Jason Riley, Maine Drilling & Blasting, Auburn
The NH Division of Historical Resources has announced that "My New Hampshire: New Hampshire's Five-Year Preservation Plan, 2016-2020" is now available online.
"My New Hampshire" provides a snapshot of the current status of historic preservation in the state, a summary of preservation successes over the last five years, and a vision and strategies for protecting and promoting New Hampshire's special historic places moving forward.
"My New Hampshire: New Hampshire's Five-Year Preservation Plan, 2016-2020" is available for download at nh.gov/nhdhr.
The NH Preservation Alliance will be presenting its 27th annual Preservation Achievement Awards at a ceremony to be held Tuesday, May 10, at the Concord City Auditorium in Concord.
The awards recognize individuals, organizations and businesses in the categories of restoration and stewardship, rehabilitation, compatible new construction, public policy and educational and planning initiatives across the state.
For more information, email projects@nhpreservation.org or visit nhpreservation.org.