People and Property: Real Estate and Construction News Roundup
Sullivan completes Pease projects, NH C-PACE program gets manager … and more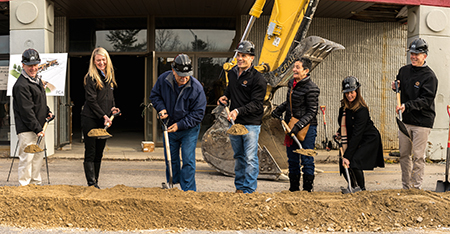 Michael McLaughlin has been named director of construction operations for Fulcrum Associates, Milford.
In his 20-year career, he has worked as a superintendent with Turner Construction in Boston and after that in a senior management role at Commodore Builders of Newton, Mass.
Scott Maslansky of Keene has joined the Concord-based Jordan Institute as manager of the NH C-PACE program. Most recently, he worked for LighTec Inc. of Merrimack.
The C-PACE program, Property Assessed Clean Energy financing for commercial buildings, allows municipalities to establish special assessment districts where commercial building owners may finance energy-efficiency and renewable-energy projects and tie the financing to the property through a voluntary special assessment or lien, effectively tying the repayment to the building, not the borrower.
Sullivan Construction of Bedford recently completed projects at space Pease International Tradeport.
The projects included:
• A new 37,000-square foot first-class office building for 249 Corporate Drive LLC. The majority of
this Class A two-story headquarters will be occupied by Loftware Inc.
• New headquarters for Sprague Energy and for High Liner
Foods. The Sprague Energy building consists of 40,000 square feet of first-class office space on two levels. High Liner Foods' 38,000-square-foot corporate headquarters is located adjacent to the Sprague Energy facility.
The Coldwell Banker Residential Brokerage office in Amherst recently donated $418 to the Nashua Children's Home through the company's charitable foundation, Coldwell Banker Residential Brokerage Cares.
Meredith Village Savings Bank has provided support to the Laconia Area Community Land Trust's tax credit campaign to upgrade its properties by purchasing $50,000 in tax credits from the nonprofit. Proceeds from the sales are being used to upgrade 60 units of LACLT's permanently affordable rental housing.
CATCH Neighborhood Housing, Concord, has received a $10,000 grant from the Lincoln Financial Foundation in support of its collaborative housing education program, HOMEteam.
As a partnership between CATCH, NeighborWorks® Southern New Hampshire and the Laconia Area Community Land Trust, HOMEteam provides residents throughout southern and central New Hampshire with a variety of tools and information related to purchasing, renting and maintaining a home.
The University of New Hampshire's InterOperability Laboratory, a provider of broad-based testing and standards conformance services for the networking industry, has announced it will be moving to a new downtown Durham location at Madbury Commons in early January 2016. The new location will be walking distance to campus resources, classrooms and local businesses.
The lab occupies a majority of the first floor and includes over 27,000 usable square feet.