People and Property: Real Estate and Construction News Roundup
Manchester's lead removal grant, NH Housing aids Hammers for Veterans … and more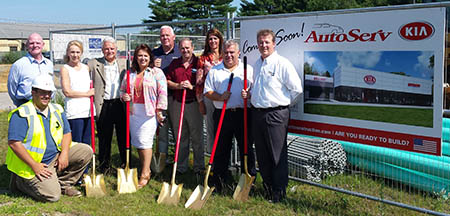 Bob Bonfiglio and Brent Kiley, managing directors of Bonfiglio, Kiley and Associates, will break ground for a new 24,000-square-foot office in Bedford. Bonfiglio, Kiley will occupy the second floor of the new building, with the 12,000-square-foot first floor available for lease. Sullivan Construction of Bedford is the contractor.
The Boulia-Gorrell Lumber Company has purchased a $500 tax Credit purchase for the Laconia Area Community Land Trust's Portfolio Strengthening Initiative. LACLT has been awarded a total of $500,000 in NH Community Development Finance Authority tax credits, and once the credits are sold, the trust will be able to use the proceeds to continue upgrading 60 units of permanently affordable rental housing in Laconia.
The NH Homebuilders Association's Hammers for Veterans program has received $25,000 in funding from NH Housing.
The goal of Hammers for Veterans is to raise funds for providing professional home construction-related services to New Hampshire veterans and their families. The program will provide guidance through the construction bidding process and manage construction activity.
In addition to the NH Housing grant, the program raises funds annually through the Hammers for Veterans Auction, which is held every March in conjunction with the annual NH State Home Show.
Maria Eveleth of Mont Vernon has joined New Hampshire Legal Assistance as its fair housing test coordinator. Eveleth will train individuals to conduct fair housing tests throughout the state to determine whether New Hampshire residents in protected classes face discrimination. In 2014, NHLA opened 168 fair housing cases, the agency said.
U.S. Sen. Jeanne Shaheen has announced that the city of Manchester will receive a $2,884,914 grant administered through the Department of Housing and Urban Development's Lead Hazard Reduction Demonstration Grant Program. The grant is designed to allow the city, working with the Manchester Health Department and nonprofit The Way Home, to address lead hazards in 175 housing units.
"Too many families in Manchester have been living in unsafe housing conditions," said Shaheen. "With this new funding to remove lead hazards from their homes, families can get the help they need to raise their children in a safe home environment."
Manchester is one of 14 cities across the country receiving similar grants.
Aoude Inc., owned by Tony Aoude of Londonderry, has acquired the gas station/convenience store at 1910 Suncook Valley Highway in Epsom from Doug Evans, owner of DJD Associates, for $675,000. The store will reopen under the name Mr. Gas Plus. Aoude currently operates two other Mr. Gas Plus locations, in Hooksett and Raymond. The sale was handled by Brenda Litchfield of Concord Commercial Real Estate.
Raymond-based design-build contractor Jewett Construction Co. has completed dealership renovations to Team Nissan North in Lebanon.
Designed by the team of Port One Architects and Summit Engineering, the design-build project entailed 5,300 square feet of showroom renovations, the creation of a new service write-up area in the existing service department, and a customer reception addition off the existing showroom for added vehicle display.
Manchester-based Harrington & Reeves represented Tranquility Holding LLC I the purchase of the former Manchester police station. Tranquility has submitted designs to transform the 30,000-square-foot facility into approximately 240 self-storage units. The sale also included two parking lots with 53 parking spaces available for lease. Mike Reed of Stebbins Commercial Properties represented the seller, the city of Manchester.