People and Property: NH Real Estate and Construction News Roundup
New president named at Monadnock Economic Development Corp. … and more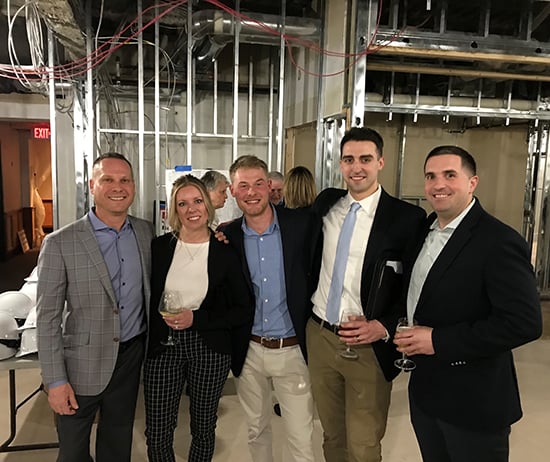 SLC Group Holdings of Nashua has committed $100,000 to support construction of the Nashua Performing Arts Center through Community Development Finance Authority tax credits. Performing Arts Center, at 201 Main St. in Nashua, will be a flexible venue that accommodates musical and theatrical performances, corporate and nonprofit events, family celebrations and other private gatherings.
Brady Sullivan Properties recently secured five new leases at two of its downtown Manchester office buildings. Forcivity, a Salesforce consultancy, relocated its headquarters into 5,438 square feet of space on the eighth floor at 1000 Elm St., and Dallas-based global logistics company Worldwide Express has signed a long-term lease for 1,425 SF on the seventh floor. In addition, Drummond Woodsum Law and Central Rivers Power moved into space on the second floor at the Jefferson Mill, at 670 N. Commercial St. Drummond Woodsum took 11,132 square feet and Central Rivers took 5,438 square feet. Also, staffing company MAS Medical relocated from the Jefferson Mill to the Waumbec Mill at 250 Commercial St.
Monadnock Economic Development Corp. has hired Arthur P. Robert as president of the organization, effective April 1. Robert, 55, will succeed Jack Dugan, who has served in the position for the past three decades. Robert has been director of community and economic development in Framingham, Mass., and has held a number of other economic development positions in Massachusetts state government.
The lots at 1687, 1705 and 1725 Elm St. in Manchester, have been sold by Cronin Properties LLC, Manchester, to Members First Credit Union. Mike Reed of Stebbins Commercial Properties represented the buyer and assisted the seller in the transaction. According to the Registry of Deeds the sale price was $1,210,000. Reed also announced the sale of the 23,000-square-foot retail building at 3 Rockingham Rd., Londonderry, by 3 Rock LLC of Londonderry to Richard Leiter of Derry. Reed represented the seller and Ralph Valentine of the Valentine Group in Londonderry represented the buyer. According to the Registry of Deeds the sale price was $785,000. In addition, Reed announced the sale of the 1,863-square-foot seasonal food and ice cream stand at 1391 Hooksett Rd., Hooksett, by Gary and Rosanne Cote to Nadia and Todd Smith, both of Hooksett. Reed represented the seller, According to the Registry of Deeds the sale price was $795,000.
A ribbon-cutting to celebrate the opening of the new Derry Economic Development Resource Center is to begin at 3 p.m. Friday, March 13. The new resource center is designed to serve those with existing businesses and for those interested in establishing a business in the town.
Nikki Barrett, managing broker of Peabody & Smith Realty's Littleton office, is now licensed in Vermont. She has been a licensed real agent in New Hampshire for the past 15 years.