People and Property: NH Real Estate and Construction News Roundup
Granite Group acquires Maine plumbing, HVAC supplier … and more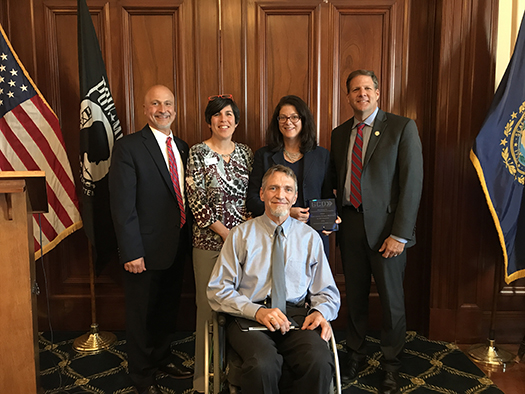 Blackdog Builders Inc. of Salem, a design, build and remodeling company, and its owner, David Bryan, and Foxfire Property Management Inc. of Concord and owner Steve Duprey were among the three winners of Better Business Bureau Serving New Hampshire 2019 BBB Torch Awards for Marketplace Ethics. Blackdog was honored in the medium business category and Foxfire won in the large business category. Also winning was Jim Haney and his Family Car Care & Tire Center of Concord in the small business category.
Officials from Wilton Economic Development and landscape architect Robert White of Greenman-Pedersen Inc., will share design plans for a proposed downtown Wilton Riverwalk, a project that began two years ago with the opening of a walkway along the Stony Brook River downtown. Since then, the Economic Development Team has sponsored a design charrette with Plan NH, a comprehensive Riverwalk Study with the Nashua Regional Planning Commission, and conducted numerous public input workshops and an online survey to gather residents' feedback. The event will be held from 4 to 6 p.m. Monday, Oct. 18 in the Town Hall courtroom.
​The Granite Group Wholesalers, Concord, has acquired Maine-based Webber Supply Inc. a Maine-based heating, cooling and plumbing equipment supplier with locations in South Portland, Lewiston, Augusta and Bangor. Webber, founded in 1960, is now operating under the Granite Group umbrella. Terms of the agreement were not disclosed. The acquisition gives Granite Group 43 locations throughout New England.
The U.S. Department of Housing and Urban Development has awarded a $176,256 housing counseling grant to New Hampshire Housing Finance Authority to support housing counseling services to help New Hampshire families make more informed housing choices. The funding is part of $42.8 million awarded nationally.
The Eagle Pond Farm in Wilmot, home of the late U.S. poet laureate Donald Hall and The Glencliff Willing Workers Society Hall in Warren are among the buildings on this year's New Hampshire Preservation Alliance "Seven to Save" list. Also singled out by the organization were: the Marion Blodgett Museum in Stratford; the Marsh House in Chesterfield; the Lower Gilmanton Baptist Church; the Ossipee Corner Depot; and general stores statewide.
Linda Provost has joined North Branch Construction of Concord as the firm's new marketing coordinator. In addition, Sean Cheney and Greg Suttles have joined the firm as project superintendents.
The New Hampshire Silver Jackets Team, a state-led team of state and federal agencies and programs, has released the Flood Hazards Handbook for Municipal Officials. The publication is designed to help communities prepare for, respond to and recover from floods. It includes guidance, best practices and information about available federal and state resources organized into situation-specific sections. Municipal officials can download a copy of the handbook by clicking here.