Pease officials keep fingers crossed on Airbus deal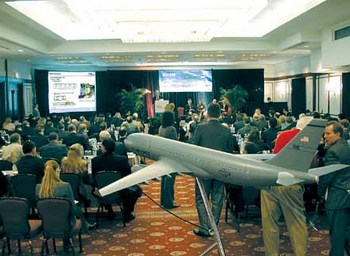 With a host of states looking to inject new life into defunct military bases, the competition to attract the maker of Airbus to a location in the United States is heating up.
One of the locations in the running is Pease International Tradeport – the former Pease Air Force Base – which is among 70 sites in 32 states vying to become an aircraft engineering hub for EADS North America to work on commercial jets and perhaps a manufacturing site where replacements for the nation's aging aerial refueling air tanker fleet will be built.
By year's end, EADS North America, a subsidiary of the European Aeronautic Defence and Space Company (which owns 80 percent of Airbus, a major commercial airplane manufacturer), plans to pick one U.S. site for a new engineering center to work on the technical needs of Airbus A330, A340 and A350 commercial passenger jets.
And if EADS North America is chosen by the Defense Department over Boeing to build new military air refueling tankers, the site also will anchor a $600 million assembly operation, employing as many as 1,200 skilled aerospace workers.
George Bald, executive director of the Pease Development Authority, acknowledges that New Hampshire's bid is a "long shot." But Pease, with its 11,300-foot-long runway – long enough for the Space Shuttle to land — is a strong candidate for the project, he said.
"We're very interested," said Bald. "We realize it's going to be incredibly competitive, but we felt it was important to make a strong effort to show that we have a good site. We clearly understand this is a long shot, but at the same time, we have a world-class facility here, so we felt it was important to make a pitch for it."
Since the Air Force Base was converted to civilian use in 1991, the 3,000-acre former Strategic Air Command base has attracted more than 200 companies employing more than 5,000 workers, but has yet to make full use of its runway and airport, said David Mullen, the PDA's deputy director.
"The airport has a greater capacity than is currently utilized," he said.
Winnowing process
A lot of other states seeking to reuse defunct military bases have put in their pitch as well, according to Guy Hicks, vice president of corporate communications for EADS North America. "There's a lot of interest because many bases have the infrastructure that could support that kind of activity," said Hicks. "You guys aren't the only ones."
Already, New York state has submitted three sites for consideration, said Hicks. Also among those in the running are California, Florida, Alabama, Virginia, Michigan, Mississippi, Missouri, New Jersey, Connecticut, Texas and Washington state, said Hicks.
"These are very attractive positions," said Hicks. "If we are successful, as we hope to be, this will be a large facility that could anchor a whole community."
On Jan. 12, EADS North America sent requests for information to all 50 states. At a Feb. 15 "information day" in Washington, D.C., the company drew representatives from 35 states, including New Hampshire. By the March 30 deadline, 32 states had proposed a total of 70 sites, said Hicks. (Each state can pitch up to three sites, but New Hampshire is betting all its money on Pease.)
Helping EADS winnow out the candidates is the Staubach Company, a Dallas, Texas, real estate management and corporate relocation firm founded by Hall of Fame Dallas Cowboys quarterback Roger Staubach. Some time in May, requests for proposal will be sent to an undetermined number of finalists, said Hicks.
A final decision is expected by year's end.
Hicks said he has been fielding calls about the project from reporters all over the country.
"We've had 32 states respond about 70 sites, and I've talked with somebody from every one of them," he said.
Location criteria
Making the EADS effort possible was Boeing's loss last year of a lucrative $23.5 billion contract to sell a new generation of tankers to the U.S. Air Force. The company fired its chief financial officer for offering a job to a top Air Force official while she was negotiating the tanker contract.
Already, the UK, Australia, Canada and Germany are flying EADS air tankers. EADS North America now wants to renew the aging U.S. air tanker fleet too, Hicks said.
"Our goal is to create the industrial infrastructure to allow us to support our customer, the Air Force, in replacing its current aerial refueling tanker fleet. The tanker fleet is an average of 40 to 44 years old," said Hicks. "There are about 530 of them deployed worldwide, and they need to be replaced."
The first phase of the new project will involve opening an aircraft engineering center in 2006. The Airbus Long-Range Aircraft Engineering Center would employ 150 people, mostly engineers, to work on commercial jets.
"Right now, in the world, only two companies make large aircraft suitable for tankers — the Boeing Company, based in Chicago, and EADS," said Hicks.
Although EADS is headquartered in Munich and Paris, this program is being operated by EADS North America, an independently operating wholly owned subsidiary based in Arlington, Va.
If the government chooses EADS over Boeing, the second phase of the project will involve creating a so-called Military Modification and Assembly Line to assemble the new KC-330 air tanker.
"The Air Force did not stipulate a timeline," said Hicks. "But if you look at their budget, they have requested between 2007 and 2011 approximately $9 billion for what they describe as tanker modernization. That's an awful lot of money, and in another planning document, they say they want to see delivery of the first replacement aircraft in 2010. So we know a program's coming, and to be prepared, we need a robust industrial capability to be competitive."
Among the criteria for its chosen site, EADS wants an airport with a minimum 9,000-foot-long runway, room for 1.5 million square feet of production, hangar and office space, good access via rail and road and proximity to a deep-water seaport. Also needed is a potential employment base "that can meet the demands of world-class aircraft manufacturing," and the possibility of a relationship with a nearby university with strong aerospace and research capacities, according to an EADS statement.
Keeping informed
The PDA is working with Gov. John Lynch, the University of New Hampshire and the state's congressional delegation to push its case.
"Governor Lynch believes New Hampshire's great quality of life, low tax burden and world-class academic institutions well position us to host the EADS North America manufacturing facility at Pease," said Lynch spokeswoman Pamela Walsh. "Our Seacoast with its deep water-port, state-of-the-art infrastructure at Pease, proximity to the university and New Hampshire Community Technical College and the quality of our workforce all help New Hampshire's efforts to attract this company here."
Erin Rath, a spokeswoman for U.S. Sen. Judd Gregg, said Bald is keeping Gregg briefed on the issue. "We are continuing to be informed as things progress," said Rath.
UNH also is involved. "We're trying to help every way we can because it seems like a tremendous possibility, and a great reuse of facilities out there," said John Aber, the university's vice president for research and public service.
Although winter heating costs would be an issue at Pease, Bald said other factors could outweigh that.
"At the briefing in Washington Feb. 15, the question was asked would weather have an impact on them. Their response was the only time that will have an impact is if it prohibited making deliveries. Everything to them is a mix," said Bald. "We may not be as strong on heating, but getting the product here by ship is probably less expensive than other locations."
And while New Hampshire offers fewer incentives than other states, its tax structure is attractive to business, Bald said. "Other states are generally far more generous with incentives, such as free rent and tax holidays," said Bald. "We don't have tax holidays, but a number of other states tax things we don't."
Meanwhile, Michael Bergeron, business development director for the state Department of Resources and Economic Development, said the project could tap skilled workers from the entire greater Boston area, from Cambridge, Mass., to Portland, Maine.
"There are 4.7 million people living within an hour's drive, so there are a lot of people they could hire who are already living here," said Bergeron. "You're dealing with billions of dollars, so there's a lot at stake."