Peak Organic brews up solid business
In a saturated beer market, these local and organic ingredients helped to distinguish Peak Organic from its competitors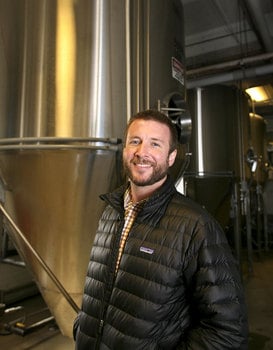 Maple syrup is no longer just for pancakes. Along with other New England delicacies, it is carving out a spot on local drink menus — thanks to breweries like Maine's Peak Organic Brewing Company. The Portland-based brewery's philosophy is simple, said founder Jon Cadoux: to use locally sourced and organic ingredients in all its signature brews, from the lively Amber Ale to the smooth Nut Brown Ale to the crisp Pomegranate Wheat Ale.
For example, the Maple Oat Ale is made with organic Vermont maple syrup and organic oats from Maine, and the Espresso Amber Ale gets its key ingredient — fair-trade espresso — from Coffee by Design, a Portland-based micro coffee roaster. The amber is the first fair trade-certified beer in the United States.
In a saturated beer market, these local and organic ingredients helped to distinguish Peak Organic from its competitors, growing it from a tiny, home-brewing startup to a distinguished brewery that sells its ales all over the East Coast.
"People care about organic, but they will not buy a product just because it's organic," said Cadoux. "It has to be as good, if not better, as any product that's out there."
The mass appeal of Peak beer, particularly its pale ale, even earned a spot on the 2010 "Best 25 Beers in the World" list in Men's Journal, which singled out its bright and balanced flavors.
Reaching the 'peak'
Cadoux first met the friends with whom he would launch Peak Organic while they spent summers together as teenagers at a YMCA camp on Lake Winnipesaukee in New Hampshire.
At age 22, Cadoux and his friends, wanting to emulate their favorite craft breweries, purchased home-brewing equipment, honing the skills it would take to eventually brew commercially.
After securing organic hops and malts, Peak Organic officially launched in 2003, deriving its name from life's "peak moments."
"We were really enjoying the beer after doing amazing things in life," said Cadoux.
Cadoux, a self-described "passionate foodie," adds suggested food pairings for the beers, which include everything from Gouda cheese to fish tacos to butternut squash. "If you appreciate great food, you're probably going to like Peak, because there's a lot of complexity in the flavor profiles," said Cadoux.
When the company first launched, Peak's brews were only available in Maine and New Hampshire. In 2007, distribution expanded all over the East Coast.
In the beginning, "it was very difficult to find this vast array of ingredients that we use now," he said. But as they reached out to more local farmers and made the demand for organic ingredients known, their brewing options expanded exponentially.
One such example is the brewery's recently released King Crimson, an Imperial Red Ale whose key ingredient is organic Simcoe hops, which are grown by a local farmer and are known for their fruity, piney flavor.
"Even a year ago, that hop was not available organic. As our communications increase with farmers, the ingredients come our way," he said.
Although Peak Organic is based in Portland, it has many ties to the Granite State. Cadoux's uncle is Gary Hirshberg, chief executive of the Londonderry-based Stonyfield Farm, the world's largest producer of organic yogurt.
Cadoux said Hirshberg has contributed "a tremendous amount" of support to the brewery.
"There's a lot of obstacles in consumer products," said Cadoux. "Gary taught me a lot of great things that they went through early on."
Peak Organic brews can be found in all corners of the Granite State, including Shaw's, Market Basket and Hannaford grocery stores, as well as select restaurants and bars such as the Barley House in Concord, Harlow's Pub in Peterborough, 106 Kitchen and Bar in Portsmouth and the Gypsy Café in Lincoln.
Peak Organic even brews the Mount Washington Organic Amber Ale, the signature ale of the Omni Mount Washington Resort in Bretton Woods, which is found in each of the resort's restaurants and bars.
As for future plans, Cadoux said he takes it one year at a time: with a growing staff of 15, the brewery is now focused on producing the tastiest beer possible, one frosted glass at a time.
Citizens Bank's In Good Company is presented in partnership with NHBR. The series spotlights growing New Hampshire businesses with unique stories to tell.