Paul O'Leary's legacy
The distinguished former head of the State Police was a 'trooper's trooper'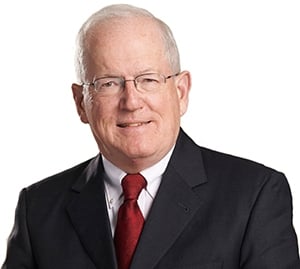 Col. Paul O'Leary, age 89, retired head of the State Police and distinguished New Hampshire citizen, died at Frisbie Memorial Hospital on Jan. 7. One of a long line of a distinguished heads of the State Police, he was a New Hampshire statesman and law enforcement official.
He began his work as a policeman with the Wolfeboro Police Department and in 1953 was appointed to the State Police. He served there for 32 years as an innovative force in a variety of positions, including organizing the drug unit that became nationally known, commanding a special unit which patrolled Hampton Beach after riots in the 1960s and rising to head the organization.
O'Leary, who retired in 1985, is remembered by those who served with him as a "trooper's trooper." He demanded excellence in all who worked with him. According to news reports, O'Leary demanded that his troopers understand constitutional law and the fundamentals underlying the laws they enforced.
O'Leary, after his retirement, continued to serve the state as an adviser to the State Police and constant advocate for its newer members, attending graduations and award ceremonies. He also was a tireless participant in civic affairs, continuing to drive former Gov. Walter Petersen to events when Peterson's age would have prohibited him from going but for O'Leary's assistance.
Distinguished fellow Rochester citizen Fred Hall Jr., a senior member of the bar and former executive councilor, also benefited from O'Leary's attention and assistance.
O'Leary would attend meetings with these former officeholders and share tidbits that only a police officer charged with the responsibility of protecting state officials would know. I had the privilege to attend several such meetings with the likes of Peterson, Hall, Kimon Zachos and others whose knowledge of state political and civic history was passed down in the telling of stories of political battles long past, with O'Leary "correcting the record," tactfully and amusingly.
New Hampshire citizens probably do not appreciate adequately the training, service and dedication of those state policemen who were trained by O'Leary and his successors and who are an ever-present source of protection to us.
Paul O'Leary's passing is an important one to be noted and his contributions should be honored. The important place chief law enforcement officials play in many aspects of civic life beyond their "day jobs" is not understood well enough, but the comments of senior state politicians when Colonel O'Leary died added emphasis to that fact.
On other matters of current focus, a few quick observations:
The sexual harassment wave of accusations and resignations or firings that have been witnessed of late have caused more than one observer, including me, to wonder why does "one size fits all" when dealing with these matters?
Certainly some of the accusations warrant dismissal, but some very old and inappropriate but not criminal actions should result in a reprimand, an apology and assurance of changed behavior, but not termination.
In some instances, the public has been deprived of multi-talented contributors to public life or media, due to the application of employment "capital punishment" for all offenses.
For the life of me, I cannot understand why Sen. Al Franken resigned other than as a symbolic victim. Similarly, Garrison Keillor, after decades of contributions to public radio and American culture, and Charlie Rose, perhaps the best interviewer around, have been taken away from the public when a lesser remedy appears possibly to have been appropriate.
Of course, this is based just on the published reports.
On another frustrating matter, the recent book about the White House, "Fire and Fury," by Michael Wolff, has gotten huge amounts of press and notoriety. While I join others in not being a fan of the Trump White House, trashy gossip books quoting the likes of Steve Bannon get entirely too much press, and anyone who is giving credence to this trash, many of whom have spent a year doubting and downplaying other comments of Bannon and his ilk, should think about the irony involved in crediting the contents of the book.
Finally, watching the Golden Globe Awards on television, with its emphasis on current events and the causes of the moment, makes me question whether the participants in that show, notwithstanding the good performance by New Hampshire's own Seth Meyers, should be lecturing the country on right and wrong, given many of their personal histories. I am pretty sure that fame does not create good judgment or equate to wisdom.
Brad Cook, a shareholder in the Manchester law firm of Sheehan Phinney Bass & Green, heads its government relations and estate planning groups.