Patrolling the harbor with Tracy Shattuck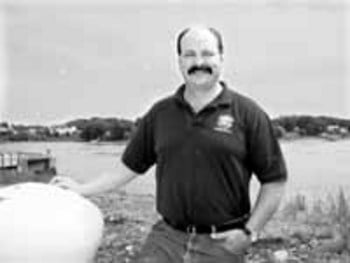 Tracy Shattuck, the Port of New Hampshire's chief harbormaster, has an office view of one of the state's largest scrap metal piles (it's less than 100 feet away) and a diving wet suit at the ready. Such is the diverse working life at the Piscataqua River location in Portsmouth where Shattuck has worked since the summer of 2001 — initially as acting chief, then assuming full-time duties in May.
Shattuck, 45, has a varied resume — the Portsmouth native trained at the Maine Maritime Academy and worked as a ship captain for the Isle of Shoals Ship Company before becoming a police officer patrolling in Dover and Alton. He's also a scuba diving instructor.
Shattuck oversees a staff of eight part-time harbormasters who cover tidal water areas ranging from Newfields on Great Bay to Dover off the Cocheco River to Seabrook and Hampton.
Q. What exactly does a chief harbormaster do?
A. We are responsible for harbor management, which means we have a lot of balls in the air at once. That includes dredging and aids to navigation, but primarily moorings. The bulk of our time is spent with moorings. There are 22 mooring fields with over 1,900 moorings in our coverage area, and any mooring placed in the tidal waters of the state must have a permit issued by this office.
Since there are more people who want a mooring than there is space available, we have established a wait list for certain areas so that new moorings are issued on a first-come, first-served basis. We make sure that each mooring that is issued is placed properly and has the proper ground tackle, does not interfere with navigation, etc.
We also enforce the regulations, such as the ones that require that the mooring cannot be rented or loaned out.
There are also security concerns, especially now, and we work to ensure the safety of the public, the vessels and our facilities. And we are responsible for enforcement of laws on state waterways and property.
Q. How did you become interested in the industry?
A. I've been around the water and playing with boats since I can remember. I went to Maine Maritime Academy with the intention of staying in a Merchant Marine career. I sailed as an able seaman, as a third mate and as a captain of smaller, coastwise vessels, and I loved every minute of it. Once I got married and had children it was more difficult to leave home for several months.
It was also a time when American-flag ships were becoming harder and harder to find, and billets were fewer and farther between. I looked around for something I could do shore-side and a friend suggested law enforcement. I did that for about 14 years. There was a hiatus during which I taught scuba diving. When this job came up it seemed to be a great blend of my interests.
Q. What are the particular challenges and opportunities of the port here?
A. I think one of the biggest challenges we have is the fact that this is a period of change, and that it is our responsibility to steer in the right direction. As public servants we are responsive to the people who employ us. In part because of our law enforcement function, it is critical to be fair and honest in all of our dealings, and that people come to know that to be true.
Q. How much has the security situation changed since 9/11?
A. There is an increased emphasis on security, but because I started here (full-time) in May it doesn't represent a change for me. We are spending a great deal of time and effort on security issues, and are working closely with other law enforcement agencies, including the Coast Guard, Marine Patrol, local police departments and others. If we want to see increased shipping into the port, we are going to have increased security issues to deal with.
Q. What's the best part about your job?
A. There are lots of best parts. I'm working with a wonderful group of people. I'm back on the water and close to home. I have a lot less stress than I had as a police lieutenant.
Q. What is one aspect of your job that laymen might be most surprised to find out about?
A. Perhaps that it's not all yachting and fun in the sun, and as I mentioned before, we spend a lot of time dealing with moorings. It's a very important issue for a lot of people.
Q. What's the deal with the big scrap pile out your window?
A. It gets big, sometimes bigger than this (five stories high) and then it is cleaned out. Occasionally something breaks loose from the pile and rolls down and hits our building.