Passion, commitment and great pizza put Sal's in the upper crust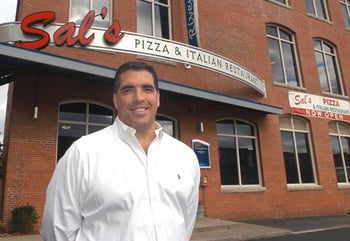 The decision to go into the pizza business following college may have been a good one for Sal Lupoli, founder of Sal's Pizza, but it was not one taken lightly.
Like all the decisions Lupoli has made since he and brother Nick opened their first 800-square-foot restaurant in Salem 16 years ago, the decision to focus on the country's favorite fast food came after much research and consideration.
"More people eat pizza than all other fast food put together," said Lupoli, 39. "It's a $50 billion market. It's a business where you can effectively dictate the quality of your product, and it's got a great profit margin."
Sal's Pizza grew quickly and the venture was soon joined by brothers Mike and Jim as chief financial officer and operations manager, respectively, in the early 1990s.
Lupoli's commitment to providing customers with a quality product, employees with a positive working environment and local communities with needed support and resources has earned Sal's Pizza recognition by Citizens Bank and New Hampshire Business Review as this month's Not Your Typical Business Award recipient.
"The passion and commitment that Sal and Nick Lupoli have toward customers, employees and communities is apparent in so many ways. From the thousands of schoolchildren that enjoy Sal's Pizza, to the extended Lupoli family that works so hard at helping run the business, and the company-sponsored literacy programs so important to fostering education. This is just a short list of what distinguishes Sal and Nick," said Joe Carelli, executive vice president and director of commercial banking at Citizens Bank.
Today, 29 Sal's Pizza locations and five Mary's Pasta and Sandwiches eateries are located in New Hampshire and Massachusetts, and Sal's Italian Restaurant and Pizzeria, a full-service Italian restaurant is perched on the bank of the Merrimack River in Lawrence, Mass. Sal's signature 19-inch, three-pound pizzas also can be found in countless supermarkets throughout New Hampshire and Massachusetts.
Also, Lupoli operates a flourishing wholesale business, supplying arenas, schools and other institutions with more than 40,000 pizzas each week.
In order to maintain control over the quality and consistency of the signature sauces, dough and bread served under Sal's name, Lupoli opened his first central commissary in Salem 15 years ago. A new commissary was built in Salem in 2001.
Providing opportunity
Despite the rapid growth and diversification of the business, size, quality and price have remained key ingredients in the company's success.
Sal's has developed a following that includes a lunch crowd that appreciates getting an entire quarter of a 19-inch pizza and a soda for under $5, and harried parents who are comfortable serving Sal's pizza to their family a couple of times a week because they trust in its quality.
"We want our customers to feel good when they leave, we want them to feel they've had a good meal and gotten a good value," Lupoli said. "We're in partnership with our customers."
Lupoli shares credit for the company's success with the 350 people he employs, many of whom he recruited from the inner city.
For Lupoli — the fourth of six boys raised by hard-working East Boston parents — giving these young people a job and an opportunity to anchor themselves in a viable industry has proven to be a good business decision.
"These kids are willing to work hard," said Lupoli, who, along with his wife Kathleen are parents of two young children, Mary, 9, and Sal, 7. "Sometimes all they need is the opportunity."
For Peter Ackerman, who joined Lupoli 16 years ago and is now general manager of Sal's Italian Restaurant and Pizzeria, the philosophy of the company's upper management has been critical in maintaining a capable and loyal workforce.
"It's really lead by example. Employees are never asked to do something that we wouldn't do ourselves." Ackerman said. "Here, people know they can come in, work hard and go home with a smile on their face."
Lupoli's hiring practices are only one example of the company's community outreach. For years Lupoli has been committed to youth-related efforts, including the introduction of literacy programs and the support of youth centers, camps, scholarship programs and athletic teams.
But it is a project Lupoli began three years ago of which he is especially proud. Riverwalk Properties, a revitalization effort, began with Lupoli's purchase of one underutilized mill building along Interstate 495 on the bank of the Merrimack River in Lawrence.
Today, Lupoli has breathed life back into five old mills on the 30-acre property, for a total of 1.4 million square feet of commercial space. Approximately 175 businesses are already housed in the historic buildings, including Sal's Italian Restaurant and function facility, retail operations, day-care providers, a police substation, the registry of deeds and medical practices.
For Lupoli, being a successful businessman and a well-respected community partner goes hand in hand.
"We do these things because its important, but mostly we do it because we selfishly enjoy being a part of these community efforts," said Lupoli. "When it's all said and done you want to ask yourself, 'Did you make a difference?' I want to be able to say, 'Yes, we did make a difference.'"
The Citizens Bank Not Your Typical Business Award is presented in partnership with New Hampshire Business Review. Businesses are selected each month based on the company's commitment to community, colleagues and customers. Visit Citizens Bank online at www.citizensbank.com.