Pannaway attempts the 'triple play'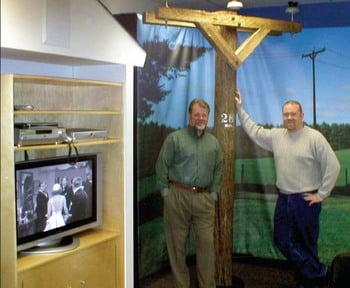 The issue of rural broadband access is no longer a theoretical matter, with much of the political and social discussion focusing on the "digital divide" between hot-wired urban and suburban regions and the mostly dial-up world in the rest of the country.
President George W. Bush has mentioned the topic occasionally on the campaign trail in connection with education reform and economic growth. And a recent New York Times editorial said, "The need to get highspeed access to rural areas is analogous to the rural electrification projects that began to transform America in the late 1930s."
Robert Barber, president of Portsmouth-based Pannaway Technologies, also has rural broadband access on his mind. He knows that, depending on location, rural populations may be lucky to have DSL and cable service because of the cost-prohibitive nature of laying down fiber-optic infrastructure to small and distant population clusters.
What most rural folks do have is the old and familiar telephone line — but with the growth of wireless telephone in even the remotest of areas, even the standard telephone connection is losing ground. But Barber and his crew of engineers at Pannaway plan to turn the copper telephone line into gold.
This feat of high-tech alchemy is based on merging the past of standard telephone lines with the present of Ethernet IP (Internet protocol) delivery, which allows vast volumes of any content to be transferred from one place to another with great speed and efficiency through broadband routers "I think what we're doing is evolutionary," Barber says of the sophisticated routing system.
And by using Ethernet IP, Pannaway's products allow rural telecom providers to provide what's known in the broadband convergence industry as the "triple play" — the Holy Grail capability to run voice, data and video over a single line simultaneously.
One-stop shopping
The availability of this one-stop shopping approach for consumers' telecommunication needs is growing fast in urban and suburban areas — cable companies and the major telephone companies are heavily promoting these bundled services — but for rural telecoms struggling to remain relevant, it's a different story.
"There are an estimated 1,600 rural and independent telecoms, and they serve tens of millions of customers," says Kevin Brown, Pannaway's marketing director. "And these companies know they have to move forward or die."
Brown says the move forward can be made with "sizzle." Pannaway makes its point with a truncated telephone pole (along with a huge photo depicting a rural scene) in its very modern demonstration room, which contains televisions showing different programs with video on demand, surround digital sound, two telephones that can be programmed via a personal computer that is displaying Web pages at faster-than-DSL speed — all working at the same time and connected through a single copper telephone line.
"What blows them away the most is that they can't believe you can run video (at cable speed) over copper wire," says Michael Skubisz, Pannaway's chief technology officer, describing what happens when he demonstrates these convergence products to potential customers.
"The tradition for the rural telecoms has been to say to their customers, 'Here, take your pick.' And it wasn't much but a few phone features like call waiting or caller I.D. and maybe high-speed Internet access. Now with this capability, they can come back to their customers and ask, 'What do you want?'" Skubisz explains. (Skubisz is already pondering the next escalation in customized convergence — courtesy of IP technology, the video telephone is very close to being a matter-of-fact, day-to-day, home-tohome reality.)
Brown says the company is targeting more than 500 rural telecoms that average 10,000 access lines. The cost for the telecom ranges from $200 to $700 per access line, depending on the volume of service (theoretically, a provider could offer 1,000 television channels or more). What it means for the consumer at the end of a dirt road is one-stop shopping and one bill to pay.
Pannaway's recently signed its first contract with an independent telecom in Minnesota that serves 10,000 lines. Rollout demonstrations are taking place in numerous areas throughout the Midwest and more are planned throughout the country, including New England. In total, Brown estimates the company will sign 25 to 30 major contracts over the next year.
'On the lookout'
Pannaway is named after the first settlement formed in Rye in the early 17th century. The firm was founded in 2002 by veterans of the former Cabletron Systems and was given extensive initial financing by Cabletron co-founder Robert Levine. Pannaway has raised more than $12 million and has seen its employee base rise quickly to 82 (most in Portsmouth and the rest in a Beijing office, where Pannaway believes a huge market exists for their products).
"When I worked for Cabletron, we were always on the lookout for new convergent technologies," Barber says. "I've believed for a while that the technology for voice and video services over IP would emerge" in a financially viable way. That's why Barber has brought in IP veterans who worked for companies such as Cabletron, Lucent, Nortel and Cisco. He expects Pannaway to become profitable by the end of 2005.
A "perfect storm" of supply and demand circumstance, Skubisz says, has hit the convergence industry – as Internet technology matures, prices drop and the economic paradigm shifts for smaller telecom providers seeking ways to leverage existing infrastructure.
That leveraging is vital, says John McHugh, technical director of OPASTCO, the Washington, D.C.-based lobbying arm for more than 500 rural and independent telephone companies. McHugh has worked in the telecom industry since 1965 and has extensive experience in New Hampshire working for the old New England Telephone (now Verizon) and the independent Granite State Telephone.
"Even a dairy farmer in Vermont knows it's important to be connected, but getting to the real rural areas is so cost-prohibitive, in part because these companies are so small (compared to the major telecoms) that they can't make large-scale purchases," says McHugh. "So they have to be careful with every dollar they spend and have to be sure the company they buy from is going to be around to service their products."
McHugh says the competition for rural customers is only going to increase. "There's the threat of two-way (video and data) satellite access, and one company is already on board. And the emergence of power grids as triple-play providers is just surfacing."
He believes that 2004 will be a pivotal year for rural telecoms and companies such as Pannaway.
"The (convergence) products have been developed and tested for the past couple of years. And the (rural) telecoms are hearing it from their customers that they need more services," in part driven by the success of the Internet wiring of schools. "A whole generation of children, even in remote Wyoming, are saying to their parents 'I have this at school, why not at home?'"