Page 3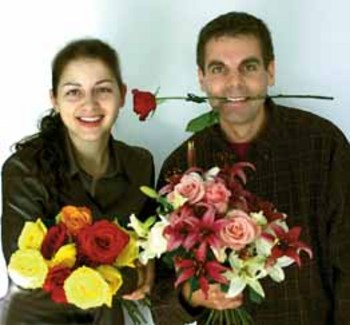 Chugging right along
What started out as a hobby for Tom and Debbie Smith has kept them in business — and in trains, cars, rockets, planes and tanks — for 22 years.
"I got a train set when I was a year old and I still have it," said Debbie, co-owner with her husband of Mountain Trains and Hobbies in Manchester. "It's the only toy that wasn't given away."
Both Smiths grew up with toy trains and never outgrew their fondness for them. But as they expanded their collections, they found they literally had a long way to go. "There was no place up here at the time to get trains," said Debbie. "We used to drive all the way down to Massachusetts to get anything. We decided it would be a great idea to open a place of our own."
They started with a small Lionel trains store in 1982 on Elm Street, where they had been running an aquarium business. They gradually expanded to include other lines and added other hobby toys and games to their inventory of trains and tracks. Eventually they moved to their current location, a 3,000-square-foot site on Lowell Street in the former Hesser College building.
From there, they ship to mail-order customers around the world, in addition to handling a steady volume of walk-in traffic at the downtown store.
To Debbie, it's no mystery why adults enjoy the toy trains as much or even more than children do. "It's a fun hobby," she said. "It gets them away from their busy lives and gives them something else to think about." — JK
Petal pushers
Bedford-based Beyond Blossoms has developed a new Web site that it hopes will one day challenge such on-line flower powerhouses as 1-800-Flowers and Proflowers.
Owners Josh Grossman and Gina Maschek say they've simplified the on-line bouquet-ordering process by offering an uncomplicated layout and streamlining flower selection.
"Basically, we visited the Web sites of our major competitors, acting as regular customers, to see what we liked and did not like about their sites," said Grossman. Their list of changes included offering unique flower varieties at fewer price points and creating a simpler user interface. "If you look at one of our competitor's sites, a search for roses will lead to 259 results over 44 pages," said Maschek.
Launched in mid-November, Grossman said response has been great. "Our customers really like the layout and they really like that you can search by color in addition to flower type," he said.
There are a couple of differences between Beyond Blossom's delivery service and its competitors. Beyond Blossom currently delivers only in the continental United States through FedEx, and only on Tuesday through Saturday.
"Since FedEx does not work on Sunday, we cannot have orders delivered, nor can we ship orders for Monday delivery. We always ship overnight and do not want the flowers to sit for two days in the gift box," said Grossman. "Besides, most flower shops are closed on Sunday anyway, so you're really only limited by Monday."
Beyond Blossom's shipping charges are a little higher, $12.99 for standard shipping charges for delivery Tuesday through Friday, and $19.99 for priority overnight and Saturday overnight. 1-800-Flowers, for example, charges $9.99 for standard delivery and $15.00 for overnight and Saturday deliveries.
Grossman said he feels the slight difference in delivery price is offset by using fresher and more exotic blooms, creating what he describes as "more upscale, elegant" bouquet designs.
Beyond Blossoms also offers a rewards program. Customers can earn reward points from each order they place which can be redeemed for free bouquets.
"Not many florists offer that service," said Grossman.
For more information, visit beyondblossoms.com. — CK
Apple of their eye
Best known for its wines, Flag Hill Winery and Distillery in Lee has uncorked its newest offering: General John Stark Vodka.
Made from New Hampshire apples, the juice is fermented and distilled and blended with artesian water, bringing the vodka to a final 40 percent alcohol content, or 80 proof.
"It's a natural progression for a winery to add a distillery," said owner Frank Reinhold. "It's easy to turn wine into brandy – we use a lot of brandy blended with our wines to make dessert wine and our popular North River Port."
Reinhold also said adding a distillery was a smart decision. "In New England there are many products like apples, potatoes and other locally grown fruits that are in excess on the retail market. When the price and quantities remain constant, they are great candidates to convert into high-quality distilled spirits."
Although the distillate comes from apples, the vodka does not have an apple taste. "Our ultra-premium vodka has a unique soft texture and non-abrasive nose that make it very pleasant to drink straight," said Reinhold.
The vodka's name comes from legendary Revolutionary War hero John Stark who uttered his famous words, "Live free or die; death is not the worst of evils." The quote was actually a toast given to fellow veterans for an anniversary celebration of the Battle of Bennington.
General John Stark Vodka is available at New Hampshire state liquor stores for $27.99 for 750 ml bottles and $2.99 for 50 ml bottles.
For more information, call Flag Hill at 659-2949 or visit flaghill.com. — CK