Page 3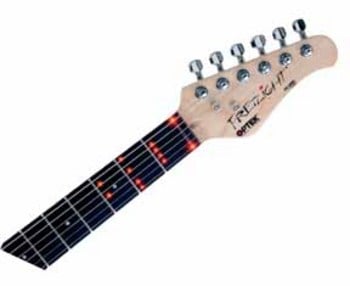 Don't fret
Optek Music Systems of Windham has just made learning to play the guitar a whole lot easier.
Instead of chord chart hieroglyphics, Optek Music has developed a MIDI program, Fretlight M-Player, for use with its FG-400 series Fretlight guitars.
"It takes most beginning guitar players months to learn a new song. However, with the Fretlight guitar and the M-Player, that can be shortened to only a few days," said Rusty Shaffer, CEO of Optek Music Systems.
Budding Santanas and Van Halens learn to play riffs by following a series of LED lights embedded in the guitar's fretboard, indicating precise finger placement. Connected through a computer's USB port, the MIDI software and Fretlight guitar allow users to learn a variety of rhythm and lead guitar parts in music genres from classical to heavy metal.
Currently, the Fretlight M-Player is available for Windows 2000 and XP for $39.95. A Mac version will be available later in the year. Play-along artist albums are available for $19.95.
The Fretlight guitar is $599.95 and is available through Optek Music, and soon, at Daddy's Junky Music stores.
For more information, call 800-575-6511 or visit optekmusic.com. — CK
Oh, baby!
Wadee, a company based in Wilmington, Mass., has taken the guesswork out of what to give for corporate baby showers — a gift pail full of hand-crafted baby items made by artisans from around the world.
"I started this business about two years ago doing home parties, and it's funny where business takes you," said Wadee owner and self-described "happy mother of two" Kristina O'Connell. "Now, corporate business is the dominant part of my business."
Baby gift pails from Wadee — the word was one of O'Connell's daughter's first words — contain handcrafted items such as spoons, wash cloths, toiletries and even a lullaby CD.
"We are all so busy, it's hard to shop," said O'Connell. "Wadee takes the work out of giving a unique gift. My products come from artisans that I come across in my travels, small vendors I meet at art fairs, folks you might never find if you didn't have the time to seek them out."
The baby gift pails start at $55, can be customized around a particular Wadee product or theme, and can be shipped anywhere in the world.
For a special touch, include Turbo, Wadee's cuddly snail logo character. For every Turbo sold, Wadee donates another one to Children's Hospital in Boston.
Small Turbos (approximately 8 inches) are $14, large Turbos (approximately 12 inches) are $24.
For more information, call 978-988-8887 or visit wadee.com. — CK
'S' is for 'Swan'
Its customers wouldn't be at all surprised to learn that Swan Chocolates, the Merrimack chocolatier, was chosen as a special prize on the "Wheel of Fortune" game show.
On February 7, 9 and 11, contestants on the popular puzzle-solving show hosted by Pat Sajak and Vanna White, competed for a $1,000 gift certificate by landing on the Swan Chocolates spot on the wheel.
It seems that the brother of owner Theresa Anderson is a producer on the show. When she visited him several months ago, she brought him chocolates like any good sister would. "He shared the chocolate with the other producers and they loved it. They wanted to use Swan as a prize," said Anderson. She said Pat and Vanna were also taped munching on truffles at the end of one of the shows.
"We just love making chocolate. It's great to make it for 'Wheel of Fortune,' but it's even better to make it for our regulars. They're our bread and butter," she said.
As of press time, there were no official winners, but Anderson said that they have noticed a big increase in on-line orders.
Swan Chocolates has two locations, in Merrimack on Daniel Webster Highway, and at the Mall of New Hampshire, across from EMS Sports. — CK
2005 Winter Wine Spectacular
More than 1,100 people attended the 2005 Winter Wine Spectacular events held last month on separate days at the Marriott Wentworth by the Sea in New Castle and the Center of New Hampshire-Radisson in Manchester, helping to raise over $91,000 for Easter Seals of New Hampshire. Larry Gammon, president and CEO of Easter Seals New Hampshire, left, (shown here with Manchester Mayor Bob Baines) said, 'To have generated over $91,000 is a marvelous testament to the fine corporate and individual citizens of this great state. — CK
I, robot
The Granite State Regional FIRST Robotics Competition returns to the Verizon Wireless Arena in Manchester on March 4 and 5. Currently, 52 high school teams from across New England have registered to participate.
FIRST — For Inspiration and Recognition of Science and Technology — is a non-profit organization that seeks to encourage students to pursue careers in science, math and engineering. In 2005, nearly 1,000 high school teams across the United States and six other countries will participate in 30 regional competitions.
The Granite State Regional, sponsored by BAE Systems, will bring more than 1,500 students and their mentors together in a competition that emphasizes teamwork, innovation and strategy. This year's challenge, "Triple Play," focuses on designing and building a robot that must manipulate three-dimensional triangles at various locations on the playing field in timed matches. Key to the overall robot performance will be the use of software.
Initial rounds are set to begin 9 a.m. on March 4. The meet continues the following day at 9 a.m. with final rounds scheduled to start at 1 p.m. The event is open to the public. Admission is free, and seating is on a first-come, first-served basis. — CK
Dr. King returns
What would Dr. Martin Luther King, Jr. say to us today if he could create an addendum to his famous "I Have a Dream" speech?
As part of Daniel Webster College's "Soulful Celebration 2005," Leon Williams, an innovative speaker on racial issues and the impact of bias and cultural divisiveness, gives us one possibility. Assuming the persona of Dr. King, he challenges today's African-American students and their communities to conquer the obstacles facing today's black culture in America.
Rounding out the celebration is a performance by Boston University's Inner Strength Gospel Choir, a 50-member ensemble that brings together people of various races, interests and denominations to sing a repertoire of songs that express appreciation of King's dream of unity and life.
The Inner Strength Gospel Choir performs at 8 p.m. Feb. 24 in the Collings Auditorium at the Nashua campus.
Williams' performs at 8 p.m. Feb. 25, also in the Collings Auditorium.
Both events are free and open to the public. For more information, call Daniel Webster College at 577-6589. — CK