Page 3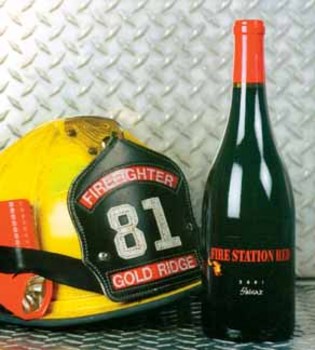 A wine-derful event…
Folks who took part in Easter Seals New Hampshire's 2004 Winter Wine Spectacular will tell you that it quickly became the premier wine tasting north of Boston. And that's why so many people are looking forward to the 2005 edition.
This year's Spectacular will be even bigger and better, with two events on consecutive evenings in January. The kickoff session, "A Distinctive Evening of Wine by the Sea," will take place Wednesday, Jan. 26, at Wentworth by the Sea in New Castle. The following evening, the scene will shift to The Center of New Hampshire in Manchester for what's being billed as the "Grand Tasting."
The Wentworth gathering is slated to be an elegant, black tie (optional) affair in a luxuriant setting, featuring jazz and food from some of the best restaurants on the Seacoast. Fine wines from prestigious vintners will be featured, along with some fabulous door prizes.
The Grand Tasting will showcase as many as 800 wines, along with a silent auction and food from the Manchester area's finest restaurants. Special wine tasting and educational seminars — a big attraction at last year's event — will again be offered by such companies as Riedel Crystal, Steele Wines and Banfi Vintners.
RiverStone Resources LLC of Manchester is sponsor of the event, in collaboration with the New Hampshire State Liquor Commission Wine and Food Program.
For more information, visit easterseals nh.org or call 888-368-8880. — CK
…and a wine-derful idea
Fire hoses and fine shiraz don't sound like they have much in common, but if you're sipping a glass of Sonoma Coast Fire Station Red Shiraz, you'll be helping volunteer fire stations across the country.
Vintner and volunteer fireman John Drady has combined his career fighting fires with a passion for wine. With business partner and fire helicopter pilot Fred Nunes and winemaker Anthony Austin, he bought 35 acres in Sonoma's Russian River Valley in northern California and began to make wine with the idea of using some of the proceeds to support their local volunteer fire department.
Drady, a New England native who spent much of his childhood visiting New Hampshire, soon began getting calls from fire houses all over the country wondering how they could get involved with Fire Station Red wines.
The idea, you could say, took off like wildfire.
"We now budget 7 percent of our production to give to fire departments for their fund-raisers," said Drady. "They sometimes use them for auction items or serve them as part of fund-raising dinners."
In 2004, donated cases of wine helped volunteer fire stations raise $225,000.
"That may not sound like a lot, but we're still just a small outfit," he said.
Drady said he's actively seeking fire departments in the Granite State that are interested in using his wine as part of their fund-raising programs.
"When we say we give a few bottles or a case for free, most people ask 'What's the catch?' There is no catch. I'm a firefighter and I know how hard the job is and how hard it is to get money for training and equipment. It's nice to be able to help," he said.
Fire Station Red Shiraz and Old Vine Zinfandel are available at New Hampshire State Liquor stores for about $15.
You can try a sample at the Easter Seals Winter Wine Spectacular, Jan. 27 at the Center of New Hampshire, sponsored in part by New Hampshire Business Review.
For more information about Fire Station Red wines and the fundraiser program, call 707-874-1993 or visit firestationred.com. — CK
The Wright book
"A Work of Art for Kindred Spirits: Frank Lloyd Wright's Zimmerman House," a 32-page book that's really a celebration of the only open-to-the-public residence in New England designed by renowned architect Frank Lloyd Wright, has been published by the Currier Museum of Art.
The $16.95 book includes breathtaking color photographs as well as essays by Neil Levine, Gleason Professor of History of Art and Architecture at Harvard University, site administrator Hetty Startup and the museum's associate curator, Kurt J. Sundstrom.
The Manchester house is part of the Currier's collection.
Startup said she believes that "the book's essays and many illustrations will appeal to the general public. The book will be a source of pride for museum members and a memento for visitors who wish to extend their visit to the Zimmerman House."
The publication has been supported by RiverStone Resources LLC, the David and Susan Feltus Fund administered by the New Hampshire Charitable Foundation, the CIGNA Matching Gift Program of the CIGNA Foundation and Penelope Curtis.
The book can be purchased at the Currier's Museum Shop, at local bookstores or at currier.org. — JF
A little soul with your sole
If you think combining coffee, martinis and fresh seafood sounds a little odd, you might be right. But Jay McSharry of Jumpin' Jay's Fish Café in Portsmouth and business partner Louis Hamel hope you're intrigued.
Dover Soul and Little Louie's Fish House are two new restaurants occupying the same historic location in downtown Dover. Dover Soul is the eatery's daytime persona, featuring coffee drinks and baked goods as well as lunch menu items like Panini, wraps and salads. As the sun sets, the cosmos come out to transform the coffee shop into the area's only non-smoking martini bar.
The other half of the restaurant opens as Little Louie's, infusing fish brought straight from the pier with Asian influences. Dishes like crab cakes with lemongrass aioli and Smuttynose porter-braised pork spare ribs with tamarind dipping sauce highlight the menu.
"We are really trying to meet a couple of needs in downtown Dover," says McSharry about the choice to open the new restaurants in Dover.
The restaurants are located in the 19th century storefront that formerly housed local favorite Carabella's Bar and Grill. "The space is gorgeous, but huge. Bigger is not always better, so we decided to split the space into two establishments."
Hamel described Dover Soul as a "coffeehouse and lounge that is swanky, but unpretentious." Of Little Louie's, he said it "combines the warmth of home with flavors from the Pacific Rim."
Dover Soul opens at 7 a.m. daily, serving breakfast and lunch. Little Louie's opens daily at 5:30 p.m. and serves dinner until 10 p.m. Martinis begin being served at Dover Soul at 5:30 p.m. daily until 2 a.m. Little Louie's menu is available at Dover Soul in the evening as well as coffee and dessert.
For more information, call 834-6961. — CK