Owl's Nest expansion wins EB-5 approval
Just days after announcing a lawsuit over Northern Pass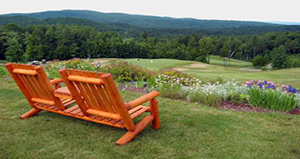 A second Immigrant Investor Regional Center has gained federal approval to operate in New Hampshire, and its first project will be to fund an expansion at Owl's Nest, a Campton golf course and resort that is filing suit against Public Service of New Hampshire and Northern Pass over a power line easement that the utility owns on its property.
After years of submitting (and resubmitting) applications, the Invest New Hampshire Regional Center was granted approval on Monday from U.S. Citizenship and Immigration Services.
Winning the approval is "a little anticlimactic, given everything that's going on with Northern Pass, but it's very important for us and I think it has the potential to be very, very important for the North Country," said Tom Mullen, an Owl's Nest developer – and outspoken Northern pass opponent – who worked to get the center up and running.
EB-5 is a government program that allows foreigners to make investments of $500,000 or $1 million in qualified American projects in return for an expedited green card for themselves and their family members. Many of the participants are looking to retire in the U.S. or send their children to American colleges.
The program has traditionally been underutilized, but less so in recent years, as traditional bank lending has grown tighter and businesses have looked to alternative lending methods to finance major projects. Each year, the government sets aside 10,000 EB-5 visas, and while that cap has never been hit, there were 7,461 EB-5 visas applications filed in 2012, more than double the number filed in 2011.
Proponents of the Invest New Hampshire Regional Center has been trying to obtain federal approval for years now. Four times they have had to submit additional information to USCIS, and it was only on Monday that they were notified of the approval via email.
Mullen's daughter, Kelly Wieser, who manages the center, "just shrieked (with excitement) when she opened it and saw that it was an approval, because she worked unseemly hard to get this thing done," he said. "It's a big deal."
Less than a week before the center got its approval, NHBR published a story about the lawsuit filed by Mullen, his business associate Walter E. Lankau Jr. and Owl Street Associates LLC (the company that runs Owl's Nest Resort & Golf Club) against PSNH, its parent company Northeast Utilities, and Northern Pass Transmission LLC.
The suit charges that just the threat of Northern Pass – a controversial 180-mile transmission line that would run from Canada through northern New Hampshire – has decimated property sales at Owl's Nest, causing it to become delinquent on its mortgage payments to its primary lender, Meredith Village Savings Bank. The suit alleges that a 2007 agreement reached with PSNH to move an easement on Owl's Nest property "wrongfully and fraudulently" misrepresented the "intended use" of the new easement, which Mullen said he is now "suspicious" was a move by PSNH to prepare for Northern Pass.
At the time, PSNH Spokesman Martin Murray told NHBR that "if there are legitimate legal issues that deserve consideration, the court is the proper forum for that discussion, not the newspaper."
As for how that lawsuit will affect the EB-5 project, Mullen said it will go forward, "notwithstanding the status of any actions we've taken vis a vis Northern Pass."
"The lawsuit was filed before we got the EB-5 approval. The lawsuit would have been filed anyway, whether we got it or not. They're sort of mutually exclusive issues one from the other, except that obviously the difference is, Northern Pass doesn't make the process any easier. To the contrary, it makes the process of moving forward tougher and more difficult," said Mullen. "We have a green light that we did not have before, and we're very anxious to move ahead and implement the EB-5 program in the manner in which our application stated, and we're hopeful and confident that we'll be able to do that."
The approved project calls for a $14 million upgrade of Owl's Nest – including a new nine-hole golf course – of which $10.5 million can come from 21 immigrant investors putting up $500,000 each.
Mullen said they have had an employee in China for two years who has been talking with investors there to make them aware of the Owl's Nest project. Plans also call for investors to be courted in the U.K. and South America.
The only other EB-5 center in New Hampshire is the New Hampshire EB-5 Regional Center, which is currently trying to raise $35 million from EB-5 investors for improvements at Ragged Mountain Resort in Danbury, including a new snow tubing park and new ski terrain. On Oct. 1, it hit a milestone of its own, with USCIS granting the first two investor approvals for the project.
Since USCIS approval covers three counties – Grafton, Carroll and Coos – Mullen said he hopes that other projects in the North Country will be able to participate in the EB-5 program once Owl's Nest secures its funding. But, he warned, it's not a short process.
"This is no quick fix for a need for capital," said Mullen. "Our best-case basis, additional projects have to be looking at a two- to two-and-a-half year lead time to gain access to this sort of funding."