Only one N.H. business files for bankruptcy in December
2014 ends with fewest filings in at least 25 years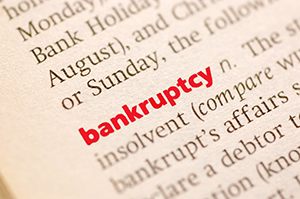 It's unofficial at this point, but it appears that in 2014 New Hampshire had the fewest bankruptcy filings in at least the last 25 years.
And there was only one business filing, the lowest number since the recession.
According to preliminary December figures, 170 individuals filed for bankruptcy, only four more than November, making it the third lowest total of the year. It was 18 percent below December 2013.
That would leave the state with less than 2,500 filings in 2014, about 20 percent lower than 2013, and the third year in a row that annual bankruptcy filings fell by 20 percent or more.
Indeed, the 2014 total of 2,477 filings, as compiled by NHBR, was the lowest of any year since 1990, according to the bankruptcy court's website, except for 2006, when 1,874 individuals filed after the bankruptcy law was tightened.
The sole business filing for bankruptcy in December 2014 was Blue Steel Enterprises Inc., Manchester, which filed for Chapter 7 on Dec. 8. It reported assets of $112,759 and liabilities of $310,725.