One-on-one with Bruce Boudreau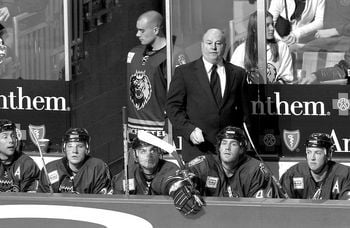 As a kid growing up in Toronto, Bruce Boudreau knew he wanted to be a hockey player, but could he have known the odyssey that lay ahead?
He set a junior hockey single-season record of 165 points — a mark that stood until broken by Wayne Gretzky. He scored five goals in a Memorial Cup game, a record that still stands for Canada's annual junior hockey championship. He survived 17 seasons of pro hockey, playing for 14 teams as a 5-9, 170-pound center. He played 141 games in the NHL with Toronto and Chicago. And he has coached for 10 years, the past five in the American Hockey League and the past three as coach of the Manchester Monarchs.
Boudreau — who at age 49 embodies a lifetime of hockey — recently sat for an interview. It was conducted the day after a 2-1 loss at Verizon Wireless Arena — a game in which the deciding goal was scored with just 3:13 remaining in the third period.
Q: If you weren't a hockey coach, what would you be doing?
A: I don't really know. My Dad used to tell me that from the minute he first asked me what I wanted to be, I only said a hockey player. I never said I wanted to be a truck driver or the usual kid's stuff answer. It was always hockey. The only other business I have is a hockey school in St. Catharines, which has been running for 21 years in Ontario, and is a pretty major thing for me, but that's it.
Q: After 17 years as a professional hockey player, you became a full-time coach. What was that like for you?
A: As a player, I always said I wanted to coach, and though I think I could have played an 18th year or 19th year, I was offered a three-year contract to coach. As a player, once you reach 30, you're usually only offered one-year opportunities to play, so this was a three-year offer and it was the first time I'd ever wanted to have some security, so I took it.
Q: What do you like most about coaching?
A: The competition, the challenge. I hate, just hate, losing. But you come to the rink the next day and it's a new day, and, boy, I wouldn't want to do anything else. I can't wait to get to the next game.
Q: What do you like least about coaching?
A: Telling players that they're not playing, having to sit players, sending players down — these are just things that are done, but I detest doing them. But it comes with the job. But in life you dislike punishing your child, but you have to do it for their benefit. You hate having to come down on an employee, but sometimes for the benefit of the company and the benefit of the employee you have to do it.
Q: In your 10 seasons as a head coach, you've had a winning record. What do you attribute that to?
A: Good teams, I guess. Trying to instill into the players the will to win and the understanding that you never want to lose. I've learned so much from so many different people, but I think what I do well is that I'm very good with people, and pushing the right buttons to make them overachieve. If I had to say I have some sort of strong point, it's that my players will play hard for me all the time.
Q: What's the most important thing that you've learned about yourself since you became a coach?
A: That you don't know it all — there's always something to learn.
Q: What are your personal goals?
A: My dreams are to be in the NHL, like everybody else. I'd love to accomplish being in the game and employed for 40 years, and that's a goal.
Q: Because you love it so much.
A: Yes, it's my life. I mean obviously family comes first, and all of those important things, but my wife when we first started going out knew that hockey's my passion. Everybody who's known me since I was 6 years old knows that hockey's paramount.
Q: What's the biggest difference between the guys who make it to the NHL and the guys who don't?
A: Obviously ability is one thing. But I've seen guys with tremendous ability that never make it, so you have to have the will to win and the will to sacrifice.
We had Darryl Sittler when I was a young player with the Leafs, and I thought I was a big hot shot. Sittler was the best player on the Leafs, now a Hall of Famer, and he was also the hardest worker, and I couldn't get that understood in my head. Everything came easy to me, and maybe it did for him too, but he also worked so hard. Maybe that's why he made it and became the great player he was, and maybe it's the reason I didn't make it in the NHL, despite how maybe talented I was.
That was a big difference. I wasn't willing to work in the off-season as hard as I had to, to work in practice as hard as I needed to, and you have to do those things if you want to be the best.
Q: It's a revolving door in the AHL, players come and go from Manchester throughout the season. How do you manage to succeed when Los Angeles calls up your best players?
A: Sometimes your best players are your best players on paper, and they don't want to be here. I think our best team ever was last year during the playoffs, but we had guys that didn't want to be here. Whereas you bring guys up from the East Coast Hockey League, they're like sponges, and they will do anything it takes to win.
I love the challenge. Sure, it gets frustrating sometimes, but at the same time, it's a great challenge. I firmly believe you don't bitch about it, you don't moan about it, and whoever puts on that Monarch jersey has got to go out hard, and I expect him to do exactly what the guy previous to him did.
Q: Tell us about your role in the Paul Newman movie, 2"Slap Shot."
A: Two weeks' work. I wore No. 7 on the green team. I was playing in Johnstown for the Jets that year, and they asked everyone on the team to be doing something in the movie, so I was on the opposing team playing against the Charlestown Chiefs. And my claim to fame, if it's possible, was that I was a real ham when I was young, and I knew where the camera was, so I never left the front of the net because I knew that's what they'd be shooting at most of the time. I got my face on camera a few times.
Q: What was the biggest goal of your playing career?
A: Wow — I don't know. The goal I probably remember most came one night at Maple Leaf Gardens in the '70's while playing for Toronto against the Canadiens. My dad's favorite team was Montreal and he was at the Gardens that night. I wasn't playing a lot because I was a fourth-line guy, so I always sat at the end of the bench waiting to jump on if somebody didn't make the change. So I jumped on the ice, stole the puck in Maple Leaf Gardens at the blue line against the Canadiens, and was going one-on-one against (Hall of Famer) Larry Robinson, and I deked out Larry Robinson, then deked out (Hall of Fame goalie) Ken Dryden and scored. The place went nuts, and when my dad saw me after the game, if you ever wanted to see what a man's face looks like when he's proud of his son, his was it.
Q: Do you have a biggest moment with the Monarchs?
A: No, because we haven't won a playoff round yet. My biggest thrill is going to be when we win. I want to be part of it because I think this city will go nuts. The L.A. Kings will have a championship team here because they care so much about this organization, and when we win, I want to be part of it. And if we do, it will be very, very special. nhbr