On the road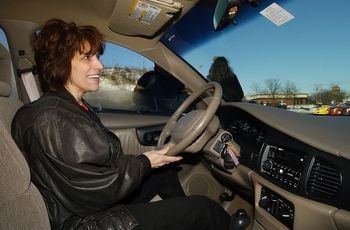 Doreen Dufresne is hopeful that she will encounter fewer bumps along her road of life.
Dufresne, a Milford resident who has had a string of difficulties worsened by being without reliable transportation, is now the owner of a late-model Buick, made possible by a local car dealer and Wheels to Work, a program of Good News Garage that helps provide affordable car ownership to qualified individuals.
Tulley Buick of Nashua, along with Wheels to Work, has helped Dufresne obtain a 2000 Buick Regal LS with slightly more than 47,000 miles on it. Dufresne bought the car – valued at more than $9,000 – for $4,000 with a loan provided by St. Mary's Bank.
WHEELS TO WORK
"I am so thankful that the Tulley family is willing to participate in this program," Dufresne said Friday. She said she would not have otherwise been able to have a reliable car.
Chuck Bedell, used car manager and wholesale buyer at Tulley Buick, said this is the third year Tulley has donated cars to the program.
"It's a great feeling to know that the dealership has helped a family obtain a safe car," Bedell said.
"We hope to help pave the road to giving Doreen a better quality of life," added Wheels to Work coordinator Bob Adams.
Adams said Wheels to Work matches cars donated by New Hampshire auto dealers to eligible individuals, who buy them with special loans.
"When you have a car there are so many things that you take for granted," Dufresne said.
"I had a difficult time even going to the grocery store when I didn't have a car."
She said she would sometimes walk five miles to her local grocery store when friends or neighbors were unable to drive her.
And without a car, Dufresne missed follow-up doctors appointments for breast-cancer treatment and was unable to reschedule because she did not have reliable transportation.
Dufresne said the situation was also difficult for her children.
"It was heartbreaking for me that I could not attend my son's football games," Dufresne said. Now, with her new car, she said she will be able to cheer on her son at his hockey games.
Twenty-seven dealers from around the state have donated 108 cars to the program. Through the Community Development Finance Authority, participating dealers receive state business tax credits equal to 75 percent of the appraised value of the donated car.
"Wheels to Work has been successful in helping people on the road to self-reliance," Adams said. "Hopefully, Doreen's new car will help
her. . . . She has had a difficult life and deserves a break."
Dufresne, 42, is a single mother to a daughter, 15, and a son, 18. Dufresne has experienced one hardship after another. In 1990, she mourned the loss of her mother, who was killed in a car accident with a moose.
The mobile home in which she lived burned in May 2000, and her second husband died in 2001.
She was diagnosed with breast cancer in April of that year, but received a clean bill of health in May 2003.
Dufresne is optimistic about her future. Now that she has her new car and a job, she said she feels as though her life is starting to turn around. Dufresne recently passed the state exam to become a licensed practical nurse, and said she hopes that with a sufficient job she will be able to be independent and support herself and her children without public assistance.
Katie Daly can be reached at 594-5860 or dalyk@telegraph-nh.com.