On the road again
A day and a night with a Pike Industries paving crew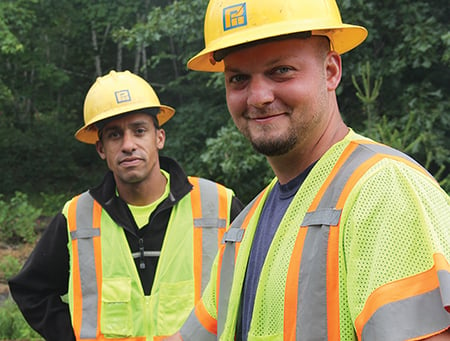 "It's a hard job … it's dirty and it's hot. It takes a special kind of a person to do this work. In the summer, there's extreme heat and you work long hours," says Marc Lerra, ground man on one of Pike Industries' seemingly ubiquitous paving crews during road construction season.
"You need patience for this work. There's no school for paving – you learn on the job. That's how I've learned," says Lerra. "For me, the satisfaction in my job is that every day, I get something done. I like working with my hands and being outside. I like being in different towns everyday. I know this state like the back of my hand because of going to different places for this job."
During the summer months, working as a paver consumes much of one's life. Days can start early, getting up at 4 in the morning to sometimes getting home at 8:30 in the evening. But for some crew members on a paving job in Nottingham, it's worth it.
The rewards include hearing "thank you" from people in a neighborhood who understand these men and women are making their roads better and safer for travel. It's also about finishing a job and doing it well. Knowing you've worked 60 hours in a week, having a good paycheck in hand with Saturday and Sunday off. That, according to one of the pavers, is "top of the mill."
Pike Industries has hot mix asphalt plants in Maine, New Hampshire and Vermont and, according to its website, has been partnering with local and state government since 1872, making better roads for the public.
— In appreciation of Pike project managers Chris Matheson and Greg Gorman for their time and assistance.
See below for more photos