On the hook
At-sea monitoring fees are the latest threat to NH's dwindling fishing industry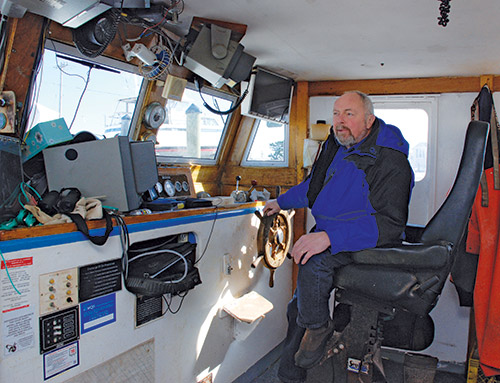 Working as both a biologist and a fisherman, David Goethel brings a unique perspective to the state and federal fishery management boards he's an adviser on.
"I've spent all my life acting as a translator because they speak all different languages," says Goethel, who worked as a research biologist at the New England Aquarium before he became the owner and operator of the Ellen Diane, a 44-foot fishing trawler based out of Hampton.
But the most recent disconnect between the factions has resulted in Goethel and other groundfishermen filing a federal lawsuit.
After delaying the regulation for years, the National Oceanic and Atmospheric Administration is now requiring groundfishermen to pay for the at-sea monitoring program — at a cost of an average $710 per trip, conducted at random. The monitoring is done to ensure that the fishermen adhere to groundfish catch quotas set in May 2010 by the New England Fishery Management Council, under NOAA. (Groundfish include cod, haddock and other common bottom-dwelling species.)
Under the program, third-party at-sea observers board commercial boats at random before fishing trips, which must be registered on a government website 48 hours before departure. The idea, according to Goethel, is that the fees paid by groundfishermen cover the salary, training and travel of the observer, along with ensuring a profit for the observer's employer.
"It is primarily intended to monitor catches to help ensure annual quotas are not exceeded," said Teri Frady, spokesperson for NOAA.
According to Frady, in 2010 it was agreed that fishing industry would fund the cost of paying for observers to be onboard a fishing vessel while NOAA Fisheries would cover shore-side costs like labor, facilities for training, data processing and other administrative tasks.
But, due to hardship from lower fishing stocks, NOAA agreed to cover at-sea monitoring costs until 2012 and then further, as NOAA used leftover funds for the program until they ran out in February.
Regulatory hurdles
At a late February committee hearing, U.S. Sen. Kelly Ayotte hounded Samuel Rauch, NOAA's deputy assistant administrator for regulatory programs, to find out why the agency could not find the $3.78 million in its $5.4 billion budget to fund the program.
"The court found that we have to spend the money on other priorities before we spend it on at-sea monitoring," said Rauch, referring to a 2011 court case, Oceana v. Locke, in which the U.S. Court of Appeals in Washington, D.C., ruled that NOAA must prioritize funds elsewhere, such as monitoring bycatch — an unintended collection of ocean species that are discarded — before funds can be applied to monitoring the intended catch.
The lawsuit was filed by Oceana, an international ocean conservation and advocacy group.
"The feeling was funds were being diverted from coverage of other fisheries," said Daniel Salerno, sector manager of Northeast Fishery Sector 11, which covers New Hampshire fishermen. "The feeling was the agency is responsible for covering all fisheries at whatever level required, but they weren't doing it."
At the hearing, a frustrated Ayotte asked Rauch to submit the necessary language for Congress to authorize funding of at-sea monitoring. At press time, Rauch had yet to do so.
"I can't believe that we would have a system where we would put the iconic fishermen out of business," exclaimed Ayotte. "The large folks, they're going to be fine. The small fishermen, they're done."
As reported in the Dec. 23-Jan. 5 NH Business Review, there are now only 10 commercial fishing boats based in New Hampshire.
As for a solution, Goethel said he doesn't have time to wait for legislation that is overshadowed by a presidential election and other matters that receive more attention. After being vocal in the media, he got the attention of Cause of Action, a nonprofit advocacy group, which has filed a lawsuit against the U.S. Department of Commerce on behalf of Goethel and Northeast Fishery Sector 13, representing groundfishermen from Massachusetts to North Carolina.
"My attorneys have done an admirable job of speeding up the legal process," said Goethel. "Generally, these things take a year or two, and we're making it in record time."
Goethel has already testified in U.S. District Court in Concord, and, although he was not able to obtain a preliminary injunction, which would have prevented NOAA from charging for the at-sea monitoring on March 1, the judge said that does not mean the plaintiffs' case doesn't have merit.
"Where this is going to matter is on May 1," when the groundfishing season begins, said Goethel. "People are going to have to decide to get out or to try to pay for it somehow. Our hope is the judge understands very clearly these boats are nonviable. He even said that in his short ruling, on barring us from getting an injunction, that the defense had failed to repute the plaintiffs' claims of grave economic harm."
Catch quotas
Since 1972, the National Observer Program has been in place to collect information on catch and discards. The at-sea monitoring regulations published in 2010, which created the fishery sectors, was set up to provide better oversight of catch quotas, said Salerno.
"Every year the New England Fishery Management Council, with guidance from the agency [NOAA] and the industry, set what the numbers will be for the fishery," said Salerno. "And now their allocation of Gulf of Maine cod has been cut by 95 percent since the beginning of the sector system [in 2010]."
"Not just the at-sea monitoring but the harsh regulations on cod have put a lot of these guys into lobstering or out of business because that was their main catch for the season," said Andrea Tomlin, general manager of the NH Community Seafood cooperative in Portsmouth. "Our guys have been regulated to about 3 percent of what they could catch five years ago. Just my sector, as a collective group, they could only catch 30,000 pounds last year; the year before they did 2 million pounds."
Every fish has a separate quota, which is what makes the program's rules so difficult, said Goethel.
"I only fish six hours a day and I used up my quotas for four species of fish in less than a week in June," he said. "If the quotas match what's here for fish, they should last you for the entire year."
Cod rebound?
Since June, Goethel has been leasing the right to catch cod, haddock and other types of fish, but the cost means he spends $5 a pound to only take home $2 a pound, he said.
So why does he keep fishing? Goethel said he can't stop for a long period of time or else he'll lose his crew, though crewmembers are making less than they used to due to regulatory fees.
Since June, Goethel has been leasing the right to catch cod, haddock and other types of fish, since he already met his quota early in the fishing season, last year.
He hasn't been charged the at-sea monitoring fee yet, but a friend with the Yankee Fishermen Cooperative in Seabrook had an observer and lost $200.
"And that didn't count the fuel and wear and tear on his boat. He lost $200 out of pocket," he said.
Goethel and other fisherman are not opposed to all regulations. He said he encourages efforts like rolling closures of areas to allow fish to spawn.
"I helped set some of those up with people from UNH in the early 2000s," he said. "The fisherman support them."
In fact, Goethel doesn't want quotas to be a part of the conversation regarding his lawsuit over at-sea monitoring, but while on the topic, he said he's had a hard time not catching cod.
It's a sentiment expressed by Tomlin as well.
"The fishermen say this is the most cod they've ever seen under this system. I just did this field trip on the North Carolina seacoast and they say the same thing," she said.
Tomlin, who has worked as a marine scientist, said, "I feel they could be doing better science. They are biased and they want to remain consistent in their sampling technique so they can have relative comparison, so if they now start to consider trip reports the fishermen must submit every day, that doesn't mathematically make sense. It's like comparing apples to oranges."
No matter how NOAA slices it, Goethel said, he doesn't think fishermen should be responsible for funding their own oversight.
"The airlines don't pay for the TSA, farmers don't pay for meat inspection and Big Pharma doesn't pay for the FDA, and I'm supposed to pay for my own monitoring?" asks Goethel. "This is what I pay my taxes for."
Goethel, who has presented his case on radio shows across the country, said he knows he's not alone in this thinking.
"This has struck a chord with the American public," he said. "First they can't believe it's true, then they get very angry."