Old House and Barn Expo attracts 2,800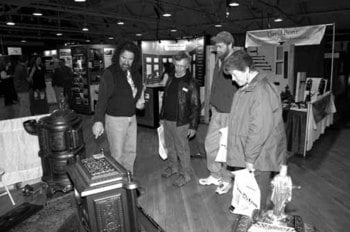 More than 2,800 people attended the third Old House and Barn Expo in Manchester the weekend of April 2-3, with attendees learning how older buildings are put together and how to care for and invest in them.
Attendees identified window repair, barn preservation and the care of community landmarks like cemeteries and railroad stations as critical issues. How to research the history of a building and house styles also were popular topics of the attendees who came from New Hampshire and other New England states, according to Jennifer Goodman, executive director of the New Hampshire Preservation Alliance – which organized the event.
Goodman said the turnout was the largest so far at the annual expo.
She said the attendance increase over the past two expos mirrors growth in the preservation movement in New Hampshire.
"Preservation activity is expanding," Goodman said. "Indicators include positive votes for preservation at this season's town meetings, the numbers of people using a new barn tax incentive and the alliance's own membership and advocacy networks."
The New Hampshire State Council on the Arts' Traditional Arts Office showcased timber-framing, stone wall building, rug-making, floor cloth design, furniture restoration, plaster and woodworking. A muralist, blacksmith and stained glass restorer also discussed their crafts.
For more information, contact the alliance at 224-2281 or nhpreservation.org.