Off The Clock: The holiday blues are no laughing matter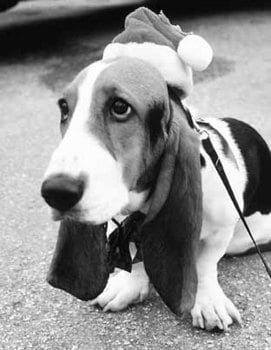 Having a blue Christmas? Hanukkah wasn't all that happy? You're not alone. Researchers say that 25 million Americans may feel more jangled than jingle bells at this time of year. I decided to take a closer look at the "holiday blues" and provide some information to get you back into those reindeer games.
David Whitehouse, M.D., medical director of CIGNA Behavioral Health and a board-certified psychiatrist, said the holiday season can add stress to our already hectic lives. "The pressure to entertain, travel, give gifts can all create stress," he said.
Those experiencing severe strains in their lives, such as the death of a family member, financial or employment issues or having loved ones serving in Iraq "can feel emotionally and physically overwhelmed" when inundated by ads depicting deliriously happy families showering each other with expensive gifts, said Whitehouse.
"The shorter days heading into a long, cold New Hampshire winter don't help," added Karen Rogers, Ph.D., a clinical psychologist and director of community education and prevention at West Central Behavior Health, an affiliate of Dartmouth-Hitchcock Medical Center.
Parents not feeling especially merry and bright have an extra challenge. Whitehouse said, "They are torn between being happy for the children and dealing with their own sadness. They may need help coping so they don't add guilt to their burdens."
One of the first ways to beat the holiday blues is to find out the underlying cause of the depression. "Some people have seasonal affective disorder, or SAD, a genuine physical illness due to the darker days," said Whitehouse. Often, SAD can be easily treated with light therapy, he said.
If the holiday depression is more of an emotional one, there are other ways to combat the sadness. "You can accept just feeling sad," said Whitehouse. "You don't have to be happy."
Rogers said that "accepting that you can't do it all" also can help during the hectic holidays. "Many times, people have unrealistic expectations."
Both experts place high importance on sleeping and eating right and exercising during this time.
"People are trying to get all the holiday-related activities done on top of their regular routines and wind up more sleep deprived," said Whitehouse.
He said increased alcohol consumption and all those sugary treats at home and at the office can cause swings in blood sugar, often magnifying mood changes.
"Try and eat and drink in moderation and get adequate rest," Whitehouse recommended.
While hitting the gym may be the last thing on your mind at this time of year (my treadmill is currently multi-tasking as a wrapping paper storage bin), Rogers said to try getting some exercise. "You don't need to spend an hour on the treadmill. A brisk walk a couple of times a week can help lift your mood."
Some good news here – she said all the "mall crawling" we do when shopping for gifts can actually be beneficial and definitely "counts" as exercise.
If the depression is of a more serious nature, both professionals suggest getting some help. "People often overlook their employers' EAP plans. They have a wealth of practical help, including legal and financial advice," said Whitehouse.
Rogers said if you've experienced a loss or hardship in recent years and this holiday season still finds you wracked with sadness, it may be time to talk with a professional.
Be realistic
An ounce of prevention is worth a pound of cure, as the old saying goes, so planning for next year's solstice insanity is probably one of the best ways to stop the holiday blues before they start.
"Many issues are financially related," said Whitehouse, "so set a budget and stick to it."
Rogers said it's important to delegate. "Be more realistic about what you can take on, what is really important and what isn't."
She suggested even changing some traditions. "Instead of cooking a huge meal yourself, try a potluck. That way, everyone shares. It can actually become a better tradition."
Volunteering has been documented as a way to help lift the spirits of those helping out. "The feeling that you get from giving the gift of time lasts a lot longer than receiving a gift," said Whitehouse.
And then there are those happy, perky people who could put St. Nick himself to shame in the celebration department. Here's a news flash: not everyone feels like you do.
Whitehouse said to be mindful of others. "If someone is not joining in with all the holiday festivities, it might not be because they're cranky, they might be worried about finances or a child serving in Iraq."