OECD says N.H.'s quality of life is tops in U.S.
Based on nine different factors, Granite State comes out best place to live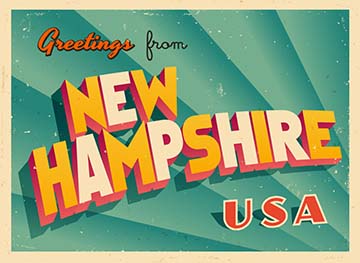 The words "quality of life" have been used so often to describe New Hampshire's biggest asset that many Granite Staters simply zone out when they hear it. But apparently, at least according to the Organization for Economic Cooperation and Development, the phrase still has legs.
In its recently released Better Life Index, the OECD, an international economic organization of 34 countries, found that the best place to live in the United States is New Hampshire.
In the report, the OECD ranked the 50 states and the District of Columbia according to nine different measures of well-being – health, safety, housing, access to broadband, civic engagement, education, jobs, environment and income.
The study assigned a value from zero to 10 (10 being the best) for each of the nine measures.
And when everything shook out, New Hampshire, which scored 77.6, was No. 1 by a relatively large margin. (Closest was Minnesota, at 76.2, Vermont, 74.8, Iowa, 72.9, and North Dakota, 72.4.
New Hampshire outshone the others in several categories.
• Safety: Based on crime and homicide data, New Hampshire is the safest state with a score of 9.2 – a half point higher than the No. 2 state.
• Housing: New Hampshire scored a perfect 10 in this category, which was determined by the number of rooms per person, housing expenditures and the number of dwellings without basic facilities in each state. Thirteen other states had the same scores.
• Income: New Hampshire again scored a perfect 10 in this category, which was determined by using household net adjusted disposable income and net financial wealth. Again, 13 other states had the same score.
• Access to broadband: With 79 percent of households having access, New Hampshire scored 8.9 in this category, tied with Washington for first place.
As for the other categories:
• With a score of 9.6, the state placed fourth for education (share of labor force with at least a secondary education).
• With a score of 8.8, the state placed sixth in jobs (percentage of people employed).
• With 7.1 points, the state placed seventh in health (based on mortality rate and life expectancy).
• With 5.8 points, the state placed seventh nationally in civic engagement (based on voter turnout percentage).
• Most disappointing was the 8.2 score for environment, which was based on air pollution levels. The state placed 19th in that one.