Obama honored at FIRST NYC gala
Nonprofit reaffirms commitment to closing STEM equity gap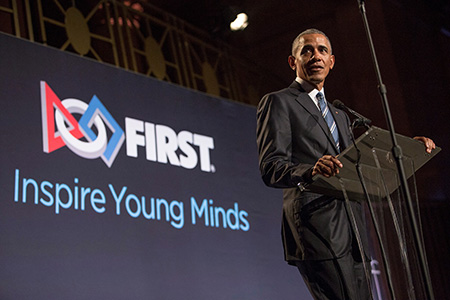 FIRST, the Manchester-based organization whose mission it is to inspire young people's interest and participation in science and technology, used its third annual fund-raising gala to reassert its commitment to addressing what it calls the STEM equity gap.
To highlight is commitment, the organization awarded its "Make It Loud" award to former President Obama, for his contributions in raising awareness about FIRST among the general public and helping spread the mission and impact of the organization.
FIRST honored Obama, who has been instrumental in supporting FIRST for nearly a decade, for a series of accomplishments and initiatives. At the start of his first term in 2009, Obama launched the "Educate to Innovate" campaign to support hands-on STEM education. He began the tradition of the White House Science Fair, where he honored FIRST students at each annual event. His commitment to the mission of FIRST has continued post-presidency. The Obama Foundation's My Brother's Keeper Alliance is inspiring youth in STEM education and helping provide clear pathways to opportunity.
Hundreds of FIRST (For Inspiration and Recognition of Science and Technology) supporters gathered on Nov. 2 in New York City for the Inspire Gala, which was held to celebrate the work of work advancing the mission of FIRST and inspired further action to ensure that all children have access to creative, hands-on problem-solving opportunities that instill a lifelong love of learning and adaptability in the workforce.
"As a global community, we have a responsibility to help kids become well-rounded citizens and critical thinkers who can collaborate with people from diverse backgrounds and respect each other," said Donald Bossi, president of FIRST. "As we look at where the world is headed, that work is just as essential as providing our kids with the hard skills they'll need to secure jobs in the future economy."
Also honored at the event was FIRST alumnus Chelsey Roebuck, who received the Evelyn Kamen Rising Star Award for his accomplishments in leveling the playing field in STEM for underrepresented populations.
As a high school student in Philadelphia, Roebuck participated on a FIRST robotics competition team and in 2010 graduated from Columbia University with a degree in mechanical engineering.
Roebuck in that time developed a passion for education and international development that led him to co-found the nonprofit Emerging Leaders in Technology and Education (ELiTE), which uses STEM education as a vehicle to empower low-opportunity students to realize their academic and career potential.
Since 2009, ELiTE has pioneered hands-on STEM and computer science programs in low-income communities in New York City and throughout Africa, the Caribbean, and Latin America. In 2016, Roebuck was named to the Forbes "30 Under 30" list.