November bankruptcies hit 25-year low in NH
Two Granite State businesses file for protection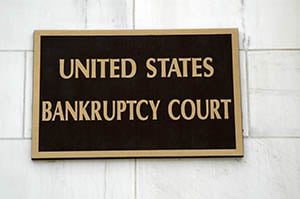 One thing to be thankful for: New Hampshire bankruptcy filings reached a new low for November.
Aside from November 2005, right after the bankruptcy law was tightened to limit filings, the 147 bankruptcy filings in November 2015 was the lowest number of filings of any November in 25 years. The previous low was November 2014, when 166 filed.
This year's November total was slightly higher than the 135 filings reported in October, which set a record for any month since 1990.
While this might be great news for the economy as a whole, it is small comfort for the households and business who couldn't pay their bills. That includes two businesses:
• A&A Wheeler Mfg. Inc., Lee, filed Nov. 24, Chapter 11. Assets: $1,192,834. Liabilities: $1,493,523.
• Skelley Medical LLC, Nashua, filed Nov. 27, Chapter 7. Assets: $14,414. Liabilities: $2,056,869.