North Hampton company showcases Bluetooth-enabled intimacy products at CES
OhMiBod's Apple Watch app uses biofeedback to control personal massagers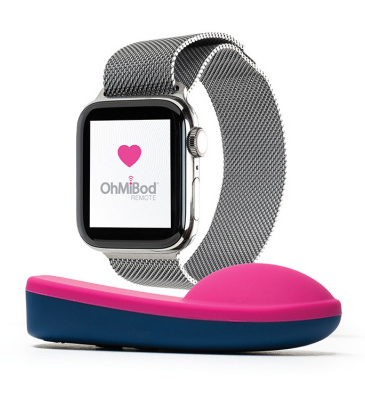 Appearing for the ninth time at the International Consumer Electronics Show in Las Vegas, North Hampton-based OhMiBod will soon reveal new features for its Bluetooth-enabled intimacy products, signaling technology has entered even the most intimate aspects of our lives.
The Remote App, originally launched in 2014, enables partners to connect to and control one another's pleasure products from anywhere in the world. But wearable devices have taken it one step further.
The Remote App now includes Pulse, a patent-pending functionality designed specially for Apple Watch users that creates a "heart connection" between partners. As a person's pulse quickens, so too will the vibrations that their partner experiences through any OhMiBod massager equipped with Bluetooth connectivity.
The app also includes rhythm and tap functions as well as the "Club Vibe" mode, which uses ambient sounds to drive vibrations to OhMiBod's connected devices.
"Smart watches like the new Apple Watch series have evolved into legitimate wellness devices with fantastic biofeedback performance. It is the perfect time for OhMiBod to launch its first true biofeedback-driven functionality," said Suki Dunham, founder of OhMiBod, in the company's press release.
This spring, OhMiBod will enhance the capabilities of its Bluetooth products with a skill designed for Alexa, a virtual assistant developed by Amazon for its Echo products. Taking advantage of Alexa's voice interaction features, the skill will allow hands-free control of OhMiBod's pleasure products, including a soon-to-be released couples' ring.
"Users will be able to set intensity levels, change patterns, and set the mood through music," said Dunham. "But most importantly, Alexa's hands-free functionality helps ensure that all participants can focus on intimacy and enjoyment—without distraction."
Dunham told NH Business Review its products are quite popular in the military community and among millennials "who are very comfortable with a digital lifestyle."
The company has observed the change in social attitudes and perceptions toward its product category throughout its years of attending CES.
"Couples like to use our app-connected toys to spice things up and to experience new ways to play," said Dunham. "The very first year we exhibited, there were some who wondered why we were there and how we fit into the trade show … We really experienced true acceptance in 2016 when we were awarded the Best of CES in digital health and wellness by Engadget for Lovelife Krush, a smart Kegel exerciser."
Dunham said all features allow the user to use the product discreetly.