North Country effort measures the economics of creativity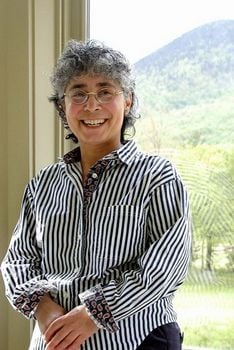 When you think about the White Mountains, you probably think about, well, mountains. You may remember wildlife you've seen or a cozy inn where you stayed. You probably don't think about cutting-edge art and theatre.
Frumie Selchen wants to change your mind.
At a recent meeting in Berlin, Selchen stood before a dozen or so people with an interest in the arts. There were a harpist, a photographer and an architect. There were an economic development specialist and a motel owner. Selchen runs the Arts Alliance of Northern New Hampshire. She hopes to organize people like these across the North Country. The goal: to promote arts and culture as an economic development tool.
Selchen has an elf-like quality: she's small, energetic, playful. She seems to relish the challenge ahead.
"We talked to a national consultant," she announces cheerfully, "and he said no one's ever done something quite so foolhardy in cultural planning."
Selchen's initiative draws on an argument that's being made increasingly often by organizations across the country: Art pays. In a study completed in 2000, the Boston-based Creative Economy Council concluded that 3.5 percent of New England's workforce is employed in arts- and culture-related activities. The study also found the creative sector to be growing faster than the general economy, even without a focused, regional effort to promote the business of art.
The council's project manager, Garrett Kimberly, says despite the clichés, art and money are inextricably linked.
"I've never met an artist who wants to starve," he laughs. "One of the big challenges we've had and one thing we've helped organizations overcome is breaking down the stereotypes of the arts and business — that arts are arts and business is business, and artists do what they do for the sheer joy of arts and businesspeople are all about profit."
He adds: "There is no art community and no business community. There are just communities."
A marketing challenge
The term "creative economy" is designed to break down those boundaries. It isn't limited to non-profit arts organizations. It also embraces for-profit galleries and jewelry makers. It includes architects and advertising firms and software designers. All of these contribute to "creative capital." And creative capital, the argument goes, makes communities more vibrant. It helps attract well-educated, high-earning residents. And it strengthens the local economy.
"We've talked historically in community development about nurturing human capital and social capital and environmental capital," says Kimberly. "It's important to invest in creative capital too."
That sounds pretty idealistic for rural New Hampshire, where towns often struggle just to provide basic services. But Selchen says creative businesses already have a good foothold north of the Notches.
"I think the North Country in the summer is an arts center but people don't know it," she says. "Summer theater and summer music are very strong already. They just need to be marketed together, because nobody has the resources" to do it individually.
Selchen hopes to hire someone within the next year to focus on marketing cultural and artistic events. She says part of the challenge is making sure news about these activities gets to local hotels, where it can filter down to tourists.
"I think it's pretty clear that if we could find an efficient system to deliver the information, and work with people so they know how to describe the events, that would help," says Selchen.
One thing that's not clear is what current visitors to the state want: Chamber music? Rap? Art galleries? Poetry slams? Selchen hopes to find the money to research that. Better data also might reveal whether the region could tap in to new markets by promoting the arts.
"We don't know whether the people who come here are the cultural tourism market," she says. "That's a really interesting question."
One Gorham hotelier says his guests are definitely hungry for more cultural activities. Randy Labnon says people mostly come to the Town and Country Motor Inn for outdoor activities like golf and snowmobiling. But in the evening, or on the dreaded rainy days, they come to the front desk looking for things to do indoors. Labnon often sends people to Heritage New Hampshire in Glen. He's grateful for St. Kieran's Community Arts Center in Berlin, which hosts occasional plays and music. Still, his guests often go away frustrated.
"Rainy days, if you don't want to go shopping in North Conway, there's not a lot to do," he says. "I think an art gallery could be a little busier on days like that."
Bill Andreas of the Berlin-based Business Enterprise Development Corporation also sees people factoring in arts and culture offerings when they decide whether to move to an area.
"That's particularly true of professionals," he says. "Doctors, lawyers, engineers. They care about it for themselves and their families, and how available it is in the schools."
A hard road
When people are asked to name a thriving North Country arts institution, they often point to the Weathervane Theatre.
The Weathervane's roots go back to the 1930s. Over the years it has drawn audience members as diverse as Eleanor Roosevelt and Mae West. Nowadays it attracts a healthy mix of locals, summer residents and tourists "from away."
Lyn McIntosh is Weathervane's marketing director. She's encouraged by the recent growth in local arts venues.
"The Colonial Theatre (in Bethlehem) is amazing," she says. "St. Kieran's. The Papermill Theatre in Lincoln. There seems to be energy for it. I think it's there because people want it to be there."
Still, she says, making a living this way isn't easy. The Weathervane struggles to keep ticket prices family-friendly. It relies on donations for about a quarter of its budget. Grants also play a role. That kind of fund-raising requires time, expertise and hard work.
"It's a good balance," McIntosh says, "but it's always a struggle."
Part of the challenge is simply the breadth of the target area. It's a long slow drive from Pittsburg, at the state's northern tip, down to North Conway. A lot depends on town governments, which may not rush to embrace the idea of creative work as an economic engine. Selchen aims to be pragmatic.
"What I don't know for sure is how well people can use the planning process to proceed across such a large region," she says. "I think what we can do is provide a more united voice for the cultural community with whoever does seem to be moving forward."
The arts alliance has held meetings like the one in Berlin across the North Country. It's now incorporating feedback from those meetings into a cultural plan, scheduled to be released in the fall.