Nor'easter drops about a foot on the area, with some drifting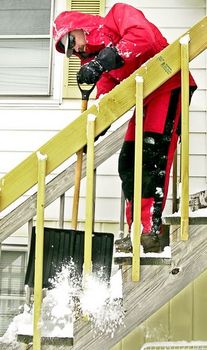 A disability kept Nashua resident Diana Stern from participating, but she was still a big part of the action at the crowded Roby Park sledding hill Sunday afternoon.
Bundled up with her back to the furious north wind, Stern sat contently in a fold-up chair, the type typically seen around a campground fire or at a Little League game, as she watched her son, 7-year-old Joshua, go up and down the hill.
"I've gotten a bunch of good, long stares," she said with a laugh. "I know how funny it looks, but I don't want to sit way over there in the car for two hours."
Stern might have been the only one sitting, but she and her son were by no means the only Nashua area residents who came out in droves to play in snow from the season's first nor'easter.
Officially, information from national weather authority AccuWeather showed that Nashua got 8 inches of snow, but meteorologist Michael McAuliffe was quick to add that blowing and drifting might make it seem like more in places.
Hudson totaled 11.4, while Wilton got 15.7 and Manchester 15.6, McAuliffe said.
While it appeared for most of Saturday that the early forecasts may have exaggerated the storm's strength, snow piled up at a good clip overnight and most of Sunday to send total measurements closer to the predictions.
Pockets with as much as 25 to 30 inches were reported in some spots of the North Shore of Massachusetts because of a meteorological occurrence called mesoscale banding, where narrow bands of enhanced snowfall develop when wind carrying the ocean's moisture meets cold air from the north.
The best example is Peabody, Mass., McAuliffe said – the North Shore community recorded a whopping 35.6 inches.
In the Nashua area, state and local public works crews were out most of Saturday night and Sunday, keeping main thoroughfares open and getting to the secondary roads and residential streets as they could.
Many activities were postponed or canceled, leaving residents most of the day to dig out and maybe head out to play.
After the storm kept many holiday shoppers at home Saturday – typically the busiest day of the week – virtually all stores and shopping centers were open as usual on Sunday. The Pheasant Lane Mall kept its usual hours Sunday, and many tried to make up for lost time by heading out.
At the Nashua Country Club, city resident Chris Garner stood atop an incline along Fairway Street and watched neighbor Joe Laplante scoop snow into a small plastic toboggan to build a jump.
"He's the Pied Piper of the neighborhood," Garner said, explaining how Laplante routinely fills his car with kids and brings them sledding when it snows.
Garner's son, 8-year-old Nathan, was one, taking regular turns in line with the other kids.
One of Laplante's sons, Marcel, sustained a minor bloody nose in a low-speed collision with another sledder, but it slowed him not a bit.
"It's nothing – just wipe it off with some snow," his father shouted from down below.
Quickly administering the painless remedy, Marcel crossed himself in church-like fashion, jumped on his sled and headed once again for the jump.