Non-profit transit company is on the right track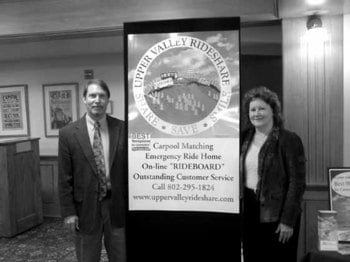 Less, according to some social theorists, can sometimes be more, and Advance Transit has been testing the limits of that theory for the past three years.
The bus company, which serves four New Hampshire (Lebanon, Hanover, Enfield and Canaan) and two Vermont (Norwich and Hartford) Upper Valley communities from its headquarters in Hartford, Vt., has been charging riders on all its routes exactly nothing for their transportation service since January 2002. It may not be surprising, then, that ridership has grown dramatically.
Last year, a total of 775,000 full-route and local shuttle riders took advantage of the free service aboard non-profit Advance Transit's "25 or so" buses, said Executive Director Van Chesnut — roughly double the passenger load of five years ago.
"We get significant contributions from our two largest employers," said Chesnut. Dartmouth Hitchcock Medical Center recently completed a $240 million expansion in Lebanon, and Dartmouth College in Hanover continues to grow. Both believe it is important to support public transportation as a means of moving people in and out of an area where commercial, retail and residential growth are contributing to traffic congestion and strains on road capacity. For the same reasons, both the communities of Lebanon and Hanover have significantly increased their contributions to the transit company this year.
But success has not come entirely from selling civic and business leaders on the benefits of supporting public transportation. Planning and foresight are also important, Chesnut said.
"We apply for planning funds from the (New Hampshire) DOT to look at our objectives and services and the needs for our area and then try to find ways to reconfigure our services to get more use out of available dollars," he said. "That's helped us to be more efficient." And efficiency is important when you're trying hard to give away your service.
Persuasive argument
Chesnut said at first the idea of giving commuters a free ride encountered some resistance among elected officials who wanted to know why they should commit more taxpayers' money to a transportation service whose users are paying nothing.
Apparently, Chesnut was persuasive. The city of Lebanon has increased its contribution from $81,000 to $145,000 for the current year. The town of Hanover is contributing about the same amount, Chesnut said.
Since those two communities, with populations of about 13,000 each, are the largest municipalities Advance Transit serves, there is not a large taxpayer base to draw upon. The smaller municipalities contribute lesser amounts, while grant money from both the federal and state DOT helps to make up for the rest of the company's $2.2 million operating budget.
There also are those corporate contributions that help keep the transit company out of red ink.
To some extent, the company has an advantage over other non-profits that may be looking for assistance at the local level. The municipalities that hear transit officials asking for more money know that "they" are "us." The agency's board of directors is appointed by the participating communities. And there is no way, Chesnut said, that the service could be self-sustaining no matter what the company might set as passenger fare.
"If you go to the biggest cities, you might see them cover their costs" with passenger fares, he said, though in most city transit systems, fares cover less than a third of the cost of the transportation. "In rural areas, it's typically 10 percent," Chesnut said.
But the executive director has not yet exhausted all of the ways and means of raising money for his organization.
"We're going to get into the philanthropy business," he said, by asking more businesses and individuals to make tax-deductible contributions to Advance Transit.
"Certainly we don't want to see people contribute less to the Red Cross in order to contribute to us," he said. But wealth is growing in the region, he noted, and some area residents may find in the transit company a worthwhile way to dispose of a small portion of their disposable income. Riders who can afford to also are given the opportunity to contribute, he said.
Corporate encouragement
The company began as a project of the Upper Valley Senior Citizens Council (now the Grafton Senior Citizens Council) in 1984. It was later reorganized and incorporated as Advance Transit, and Chesnut has been executive director since 1987.
Also chairman of the New Hampshire Transit Association, Chesnut finds public transit an area of growing interest and importance as communities increasingly look for ways to move people through their streets without increasing traffic congestion and infrastructure demands faced by growing towns and cities.
"I like the challenge," he said. "It helps people. It makes a difference in their lives, and it's important to the community at large."
He also has witnessed the contributions that local businesses can make with their internal policies, as well as their dollars.
Dartmouth Hitchcock Medical Center gives preferred parking spaces to those who carpool. Dartmouth College pays employees to give up their assigned parking spaces and also pays them, on a per-mile scale, for commuting by car pool, bus, walking or bicycling to work.
Susan Berry, Advance Transit's marketing director and Upper Valley Ride Share coordinator, noted that perceptions about the need for automobiles is changing, even in small towns and rural areas.
"We get calls from people moving into the area who don't have a car and don't want one," said Berry. Many who have lived in large cities where they could depend on public transportation now want the relative quiet of rural life without the hassles of driving through city and highway traffic, she said.
To meet that and other demands, Chesnut and his colleagues will be trying to find still more imaginative ways to pay for the free rides. In public policy, as in automotive maintenance, he has found, the squeaky wheel does indeed get some grease.
"If we don't tell them what our needs and opportunities are, they won't know what we're up against," he said.