No Horsing Around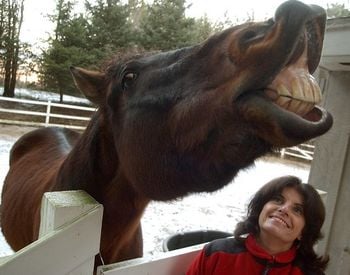 "I'm really excited because folks who own horses in the area will know how much they spend, and now others will see how big (the industry) is and how much it does contribute," said Nancy Robbins, owner of The Horse Dresser & Rider's Closet, a tack and equestrian clothing shop in Brookline.
The survey, conducted by the New Hampshire Horse Council and released Wednesday, took several months longer to complete than its project director had originally anticipated. Lisa Derby Oden started the study in October 2002, and expected to publish it early this year.
Despite the delay, Derby Oden thinks the final results will benefit equine owners in many ways, particularly by lending statistical weight to their causes.
For instance, the survey can help equine owners secure federal and state grants or deal with legislators and municipalities on issues such as trail development, she said.
"If there are groups looking to develop trails, this gives you some hard, hands-on data to use instead of standing there scratching your head and saying, 'I don't know,' " Derby Oden said.
She also recognized an immediate benefit from the survey. Respondents indicated they did not know where to meet about equine-related technical and educational needs. As a result, the University of New Hampshire Cooperative Extension will develop a series of talks this spring geared toward horse owners, she said.
The University of New Hampshire and the New Hampshire Farm Bureau Federation assisted with the survey. After some tweaking, 5,698 households and businesses were determined to be eligible to receive a questionnaire. From that number, 2,353 questionnaires were returned and considered usable in the survey – a response rate of 41 percent, according to the Horse Council.
The UNH Department of Resource Economics and Development helped coordinate data, and the survey was correlated with a separate survey conducted this fall by the UNH Survey Center.
That second survey found that 5 percent of the 506 New Hampshire adults questioned owned one or more horses, ponies, donkeys or mules. Seven percent of those who do not own an equine animal said they would like to purchase one someday.
The major Horse Council study found that the 2,266 households that responded to the survey had 7,888 equines. Quarter horses (1,068) led the pack among light-horse breeds, thoroughbreds (880) outpaced standardbreds (117) in the racehorse category, and donkeys (201) outnumbered mules (48).
Equines are used more for pleasure and trail riding than for work, the study said. The estimated median value for an equine was $8,500.
The survey offers almost every conceivable equine fact, including vaccinations by county, ownership of manure spreaders, and where equines are kept.
It reveals what sort of products equine owners purchase, what they pay for boarding and training and how far they traveled with their horses to shows and health care.
The total value of all equine-related assets was $385 million, the study said. It does not indicate the total amount spent, but it does extensively break down spending in a slew of areas, including equipment, feed, real estate, clothing, insurance, horseshoeing and even computers.
Land issues, particularly the loss of trail space, rated as the top concern of equine owners, Derby Oden said.
And that concern seems inevitable considering that three populous and heavily developed counties contain the most equines. Rockingham County had 1,814 equines, followed by Hillsborough with 1,419 and Merrimack with 1,045. Coos County had the fewest with 251 equines.
These statistics may shatter the perception that rural counties have more equines than developed counties. But there is also the consideration that with more people, those three counties would be expected to have more animals.
Many within the industry point to how households with high incomes board horses at farms, or have homes on large tracts of land that sit outside urban areas and thus make equine ownership possible.
"Horse owners are a silent economic factor . . . but equines certainly do have an economic effect," said Hollis resident Carol Stewart, who owns two horses, an Appaloosa-Clydesdale named Socks and a Trakehner named Meistro.
The survey could benefit rural residents, for instance, if they want to install signage around horse trails, or help preserve those areas, Stewart said.
"It is of interest if it is used, and people realize it is available," she said.