'Nighthawking' radiology services ship x-rays offshore for diagnosis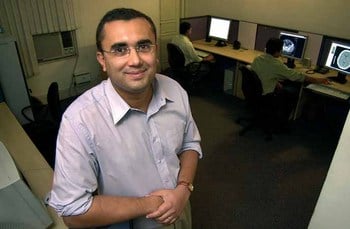 You may get your x-rays taken in the emergency room of your local hospital, but a physician on the other side of the globe may be doing the diagnosis.
The growing phenomenon of outsourcing – from setting up call centers to contracting for engineering, accounting and manufacturing services in other countries – has moved to the medical field — specifically to radiology, where a practice known as "nighthawking" has developed with the goal of easing the burden on overworked U.S. radiologists.
Expected to read tens of thousands of x-rays and other diagnostic imaging studies every year, "nighthawking" gives radiologists coverage during the night and during vacations. It involves sending images across the Internet to be read by physicians thousands of miles – and several time zones — away.
Michael Wilkes, director of professional services at Huggins Hospital — a 25-bed critical access hospital in Wolfeboro, — said the hospital has since last July employed NightHawk Radiology Services, a Coeur d'Alene, Idaho-based company that offers radiology services through physicians in Australia and Europe to ease Huggins' diagnostic imaging workload.
He said Huggins' radiology department performed some 40,000 radiological procedures last year.
"Like many rural hospitals, we have only one radiologist working 24/7/365," said Wilkes. "Occasionally, he's able to find coverage, but if he can't, he can't leave. We wanted to find a more reliable system of coverage."
According to Wilkes, Huggins already had teleradiology equipment on site to send images via the Internet — most often to the radiologist's home. "With NightHawk, we can send images any time, day or night. We can mix and match services between them and our staff radiologist. There's a lot of flexibility."
Unlike other firms that outsource functions to foreign workers, NightHawk sends American radiologists to Sydney, Australia, and Zurich, Switzerland, to read films for hospitals in the United States. (Other nighthawk firms employ non-U.S. radiologists in India, Lebanon and Israel.)
Nevertheless, in New Hampshire, these far-flung radiologists have to be credentialed and licensed in the state to perform their duties — the same as if they were physically present at the patient's bedside.
"That was an important part of our decision to go forward with NightHawk," said Wilkes.
He said the process to set up the service took about two months, with the bulk of the waiting for the privileging process.
The sending, reading and returning of diagnostic images outside of the hospital involves sophisticated teleradiology technology capable of handling gigabytes-worth of data over the Web through multiple layers of security.
The off-site radiologist receives a message that a study is coming. He or she sends back a message of its receipt, then the preliminary findings are sent, typically by fax, to the hospital of origin.
"It's important to point out that these are preliminary impressions coming from the NightHawk radiologists, not the final diagnosis," said Wilkes. "Our radiologist will then read the films and make a final diagnosis."
So far, he said, there have been no discrepancies between Huggins' radiologist and the NightHawk physicians, said Wilkes.
Other costs
Some, however, question the effectiveness, security and safety of using offshore radiologists.
Mike Gressel, director of diagnostic imaging at the 100-bed Exeter Hospital in Exeter, for instance, said one of the main reasons his hospital decided against outsourcing radiology services is the potential for interpretation discrepancies.
"Physicians abroad have no connection to the community, the patients, or even to the other physicians, for that matter," he said. "They can't provide a final interpretation, so you're basically paying for a preliminary assessment. It could change or it may contradict what the staff radiologist finds."
Performing some 72,000 radiology procedures a year, Gressel said Exeter's six radiologists manage the workload through call rotations.
Cost is another concern posed by outsourcing radiology interpretations — Medicare will not cover final readings by physicians outside of the United States. But by having the nighthawk physician give just a preliminary report and the local radiologist make the final interpretation, hospitals can be reimbursed for the procedure.
There are other costs involved as well, such as implementing a PACS — or picture archive and communication system — that digitizes radiologic images and reports, installing Web servers capable of transmitting the large files across the Internet and the cost of the contract with the outsource provider itself.
Although Wilkes said Huggins Hospital had the technology largely in place prior to outsourcing, its contract with NightHawk was "cheaper than paying for another full-time radiologist," which can be well over $300,000 a year.
Coverage issues and costs also were the issues that led Androscoggin Valley Hospital in Berlin to seek the radiology outsourcing services of NightHawk, according to Dr. Keith Shute, senior vice president of medical affairs.
"It is becoming almost impossible to find a radiologist that will do call, especially in a rural hospital like ours. It's one thing if you are an urban hospital with 20 other radiologists; coverage can be rotated. But for a hospital with just one or two physicians, they have to be on-call 24/7."
He said Androscoggin, a 25-bed critical access hospital, considered bringing additional radiologists on board, offering salaries well above the market rate, "but no salary could make Saturday coverage OK."
Shute said the hospital had two radiologists that had, for years, shared coverage, but once they were looking to retire, it became increasingly difficult to find replacements that would be on call, especially during weekends and late at night.
"You can have the attending physician and the emergency room physician read the films, but you didn't want to get to the point where there was no radiology specialist to read the films. It was a patient safety concern," said Shute about the decision to outsource.
Androscoggin currently has one full-time radiologist and does some 20,000 procedures a year. The hospital has gone to a digital PACS radiology system in the last four months, so the technology was in place when officials began to consider alternatives to radiology coverage.
"With NightHawk, you can send the films you're really concerned about to a U.S. radiologist in Australia and get a preliminary report faxed back in 20 or 30 minutes. The on-site radiologist can then make the final report on the next business day," said Shute.
The American College of Radiology — the national accrediting body for radiologists, radiation oncologists and clinical medical physicists — has given conditional support to nighthawking.
The ACR recommends that overseas radiologists must:
• Be licensed to practice medicine in the state where the image was obtained
• Be credentialed as a provider and have privileges at the facility where the image was obtained
• Have medical liability insurance in accordance with the state
• Be responsible for the quality of images being interpreted.
In the February issue of Modern Healthcare magazine, ACR President E. Stephen Amis Jr. said that his organization is concerned that the physician of record on each reading is actually the person reading the exam.
"The major concern is if a nighthawking company has one U.S.-certified radiologist overseeing 'a sweatshop' of non-certified technicians," Amis said.