NHTI strengthens career pathways through employer partnerships
Students complete capstones, find employment with SilverTech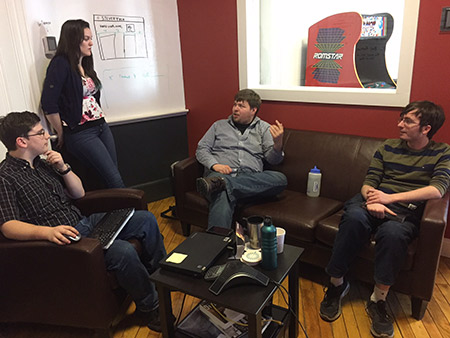 Several students at NHTI, Concord's community college, will complete their senior project at SilverTech, a digital marketing agency headquartered in Manchester, with the opportunity to join the firm after graduation.
SilverTech is one of eight companies that have partnered with NHTI to enable students to develop capstone projects that relate to a local employer's work. The industry-sponsored capstones have helped many students graduating with an associate degree in computer engineering to immediately begin a career, since students work on site during the semester with the company they have been paired with. The partnership with SilverTech is in its fifth year.
"We want our students to get experience developing something meaningful to our industry partners, including conceiving, designing and testing from an engineering perspective. It really requires a commitment on the part of the company to come up with a project and supervise them during the semester and SilverTech has a great system in place," said Frank Polito, NHTI professor and department head of Electronic and Computer Engineering Technology and Game Programming.
Currently, there are three students working on capstone projects at SilverTech. The individual charged with overseeing this work and with running SilverTech's internship programs, graduated from NHTI and completed her capstone project at SilverTech.
"Students are well prepared by NHTI and have C-Sharp programming SQL database experience, and some HTML and web work experience as well. Our engineers and staff look to build off those skills and will help the students develop a work plan for their project, familiarize them with the systems we use and work closely with them during the process to make sure they stay on track and successfully complete their project," said Derek Barka, senior director of technology at SilverTech.
"We get to know the NHTI students quite well and see if they are a good match for possible employment. We've hired several over the years and have six right now that went through this process that work as software engineers," Barka said. He added that often the students will work part-time and continue their studies to earn a four-year degree in computer science.
According to Polito, there are two primary goals for their students who are completing the two-year degree: preparing them for a junior year in a four-year program and preparing them to be ready for a job. NHTI has full transfer articulation agreements with The University of New Hampshire's Manchester and Durham campuses, meaning students will receive full credit for their coursework successfully completed within this major.
"This program offers a fantastic professional opportunity that often leads to great jobs in New Hampshire. In addition, it provides a great pathway for students interested in pursuing a four-year degree," Polito said.
Employers interested in developing similar partnerships with NHTI should contact Professor Frank Polito at fpolito@ccsnh.edu or 603-271-6484 ext. 4278.