NHTI advanced manufacturing instructors get A+ from industry and working alumni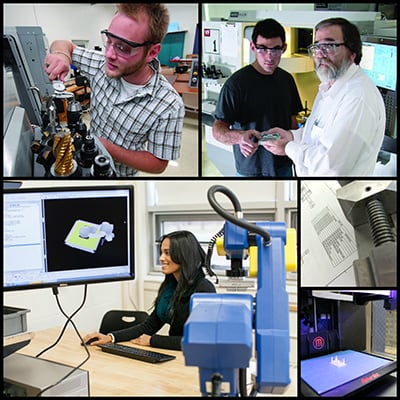 Ask a group of NHTI advanced manufacturing graduates what stands out from their time in the community college's teaching labs and the answer more often than not will be the instructors. One graduate laughed as he affectionately called one faculty member a "lumbering fount of extremely useful information."
Students who graduate from one of the many manufacturing engineering technology and production training programs at NHTI – Concord's Community College are quick to credit the industry-savvy instructors for helping land their dream jobs — many before they even turned their tassels.
"The demand is so high for people with the skills our instructors impart that we have had companies say they would hire every single one of our graduates," said Lynn Szymanski, Advanced Manufacturing Partnerships in Education project coordinator for NHTI.
NHTI works with BAE Systems, Vitex Extrusion, NH Ball Bearing, Turbocam, Praxair TAFA and many other companies, whose leaders play direct roles in shaping curricula. The strategy ensures NHTI's training programs satisfy industry need.
Training for the workplace
While the instructors certainly shine, the college's recently updated machining and robotics engineering labs are also impressive, housing equipment such as robotic arms and material handling stations; 3-D printers, programmable logic controllers; contact, magnetic reed, light and pressure sensing units; CNC lathes and 4-axis mills with 20-position auto tool changers, CNC mill and lathe simulators and more.
"Students start out in the traditional machine lab, where they learn how to manually set up and operate the equipment," said Szymanski. "This allows them to learn how the machine manipulates the material and how the material responds to machining. With this foundation, they can move on to the computer controlled machines, where they learn the programming that directs the machine movements."
The technology and programming languages used in the lab are the same kind found on professional production floors, allowing for seamless transitions from classroom to career for NHTI students.
According to a national report by Deloitte Development LLC and The Manufacturing Institute, "the skills gap problem comes into sharper focus when considering the changing nature of manufacturing work during the past five years. Many manufacturers have redesigned and streamlined production lines while increasingly automating processes." In fact, increased use of automation was the second-highest cited change in the nature of manufacturing work reported by employers, according to the 2011 study, and the trend continues on.
Focus on engineering
To meet industry demand for high-tech skills, NHTI offers industry-approved associate degree programs in robotics and automation engineering technology, manufacturing engineering technology, mechanical engineering technology, computer engineering technology and electronic engineering technology, as well as certificate programs in advanced manufacturing processes, computer technology programming, and electronic technology. A CNC boot camp has also been offered to satisfy short-term, intensive-training needs.
"As companies increasingly become automated, we have been reaching out to employers to let them know we have their future employees," Szymanski said. "NHTI has been offering mechanical and manufacturing engineering degrees for years and is nationally accredited. The college has a strong reputation in the state, so when employers are looking for a certain skill level, they know to come here. In fact, many advanced manufacturing hiring managers I speak with were once NHTI students themselves."
WorkReadyNH
NHTI recognizes the need for strong foundational and "soft" skills in any successful workplace. To this end, the tuition-free intensive WorkReadyNH program is available to eligible students at all NH community colleges. WRNH helps job-seekers and career builders improve math, reading, information-gathering, communication, team-building and problem-solving skills. Its assessment and training services enable students to earn two nationally recognized certificates, while helping employers identify qualified career candidates.
AMPed NH
NHTI and its six sister colleges are part of NH's Advanced Manufacturing Partnerships in Education, a statewide initiative that unites the colleges with more than 200 industry, state- and federal- agency partners to offer flexible, industry approved education and training. Under a $20 million USDOLETA TAACCCT grant, advanced manufacturing labs at each of the colleges were opened or overhauled with state-of-the-art equipment.
Five ways NH community colleges serve employers:
1. Their diverse selection of more than 30 advanced manufacturing certificate and degree programs was designed in partnership with industry, ensuring delivery of relevant skills across myriad disciplines.
2. Programs customized to meet specific employer needs can be offered online, on campus or on the worksite.
3. In-class visits, industry tours and the AMPed NH Student Online Suite (offering an online networking community, ePortfolios and more) put employers in touch with potential employees.
4. Career-focused training at the colleges reduces on-the-job training time once students are hired.
5. Staff can connect eligible students and employers with resources for traditional financial aid and funding from the Workforce Investment Act and NH Job Training fund.