NH's women-owned business growth slower than national average
While state saw 49.3 increase since 1997, U.S. grew by 74%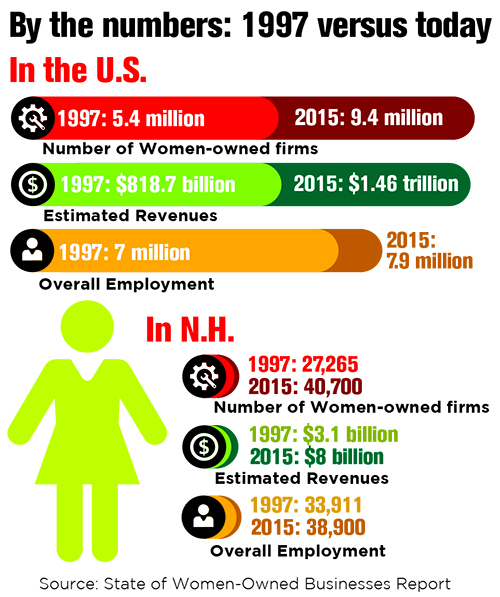 New Hampshire has an estimated 40,700 women-owned firms that employ some 38,900 people and contribute nearly $8 billion to the economy, according to the fifth annual State of Women-Owned Businesses Report.
The report, commissioned by American Express OPEN, analyzes 1997, 2002 and 2007 data from the U.S. Census Bureau's Survey of Business Owners.
But while the number of women-owned businesses nationally has increased 74 percent since 1997, according to the report, New Hampshire's growth rate is only 49.3 percent during the period, placing the state 33rd among the 50 states. In addition, the state places 26th in growth in firm revenue, at 14.7 percent.
To put the percentages in perspective, the number of women-owned firms in the U.S. has grown from 5.4 million in 1997 to an estimated 9.4 million in 2015, with their revenues increasing in that time from $818.7 billion to $1.46 trillion. Employment over the period rose from just over 7 million to 7.9 million – a 12 percent increase.
In New Hampshire, there were 27,265 women-owned firms in 1997 and an estimated 40,700 in 2015, according to the report. Revenues in the period grew from $3.1 billion to almost $8 billion, and employment went from 33,911 to 38,900.
The report also ranks states by their growth in number of women-owned businesses since the recession. New Hampshire is ranked 30th, with a 98 percent post-recession growth (2007-2015) vs. pre-recession (2002-2007).
The states seeing the fastest growth in women's entrepreneurship are Georgia, Texas, North Carolina, North Dakota and New York, according to the report.