NH's first benefit corporation receives worldwide recognition
W.S. Badger, a manufacturer that prides itself on bettering its community and employees, is among the best B-corps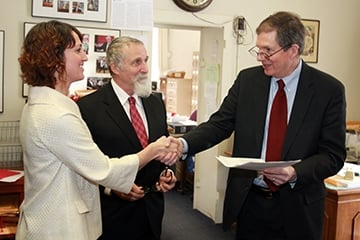 W.S. Badger Co. Inc., a family-owned Gilsum-based manufacturer of natural and certified organic body care, has been honored in the Best for the World Overall list, which recognizes 226 companies from 92 different industries and 30 countries for creating extraordinary positive impact for workers, environment, and community.
Badger has been a certified B Corp since 2011, and in 2015, when it became possible, Badger was one of New Hampshire's first businesses to register legally as a Benefit Corporation, a for-profit status that incorporates the pursuit of positive environmental and social impact in addition to profit.
Only 10 percent of more than 2,400 Certified B Corporations worldwide earn scores high enough to make the list. This is Badger's third year achieving Best For The World Overall, fourth for the Environment, and first receiving Best For the World Governance.
Every two years, Certified B Corporations must complete the B Impact Assessment, a rigorous and comprehensive assessment which evaluates a company's environmental performance, employee relationships, diversity, involvement in the local community, the impact a company's product or service has on those it serves, and more. Honorees scoring in the top 10 percent of all B Corporations set a gold standard for companies using business as a force for good.
"It's both an honor and validation for the work we continue to do in creating a positive impact on our planet, society and for our employees," says Rebecca Hamilton, family owner at Badger. "It also says a lot about the state of New Hampshire that two businesses are being recognized as Best For The World Overall, Badger, and our business partner and recently certified B Corp, Mascoma Bank!"
Lists recognizing top-performing B Corporations as Best For Environment, Best For Customers, Best For Governance, Best For Community and Best For Workers can be found at bthechange.com/bestfortheworld, as well as the selection criteria.
"With the rise of anger at a system that feels rigged, people are hungry for companies like Badger, who are changing the system by building businesses that seek to create the greatest positive impact," says Jay Coen Gilbert, co-founder of B Lab. "Best For The World is the only list of businesses that uses comprehensive, comparable, third-party-validated data about a company's social and environmental performance. As consumers, talent and investors increasingly demand transparent, values-aligned businesses to buy from, work at, and invest in, companies will need to not just be the best in the world but the best for the world. Not just to be nice—but to be the most successful."
Today there are more than 2,400 Certified B Corporations across more than 150 industries and 50 countries, unified by one common goal: to redefine success in business. Any company can measure and manage social and environmental performance at http://bimpactassessment.net.