NHCTC center focuses on training, workforce development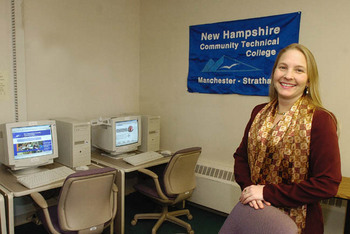 The New Hampshire Community Technical College's Center for Training and Business Development provides businesses and communities education and training opportunities throughout the state.
Jennifer Landon, director of the Manchester CTBD, said the center specializes in training and workforce development. "If there's a need, we'll do what it takes to provide the training," she said. Some of the programs developed for local businesses include specialized welding techniques, geometric dimensioning, blueprint reading and English for Speakers of Other Languages (ESOL).
Often, developing a specific training program means reaching beyond the boundaries of the traditional classroom setting. Training can be offered at the college or at the work site. For example, the CTBD worked with early childhood educators at their day-care center and is currently working toward a general studies program on site for North American Equipment Upfitters.
"The academic integrity is there, but the learning is done on site, among peers, using their field as a teaching tool," said Landon.
Developing a customized program may require a detailed review of the business itself. The CTBD will conduct a business analysis if necessary to create a training program.
"Sometimes a company is aware something is wrong, but they're not sure what the core issue is. We will help them assess their needs," Landon said. They will analyze business processes and develop a specific training program to address the company's issues.
The CTBD also offers career development courses. Continuing education credits for CPAs and a supervisor speaker series presenting topics on leadership and management are just two examples. "We also hold a summer institute for educators, focusing on students whose primary language is not English, as well as other special needs issues," Landon said.
Promoting continuing education to non-traditional students is an important part of the CTBD's mission. "We want the public to know that college is an option. We want them to see there are lifelong learning opportunities available to them and to use the community college as a resource," said Landon.
For more information about the Center for Training and Business Development, call 668-6706 or visit nhctc.edu.