NHBR business roundtable: a look at the White Mountains
Area businesspeople assess state of the region's economy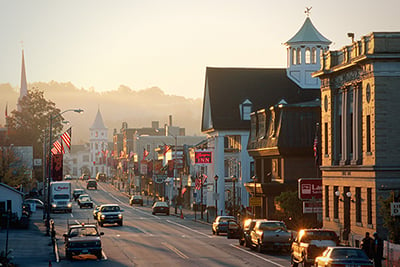 NH Business Review recently met at the Woodstock Inn, Station & Brewery in Woodstock with businesspeople in the area to get their take on the issues facing the White Mountains and its economy.
Participants were: Emshika Alberini, a Littleton-based entrepreneur and investor
Shauna Cameron, director of physician practice operations, Littleton Regional Healthcare
Janice Crawford, executive director, Mt. Washington Valley Chamber of Commerce
Michelle Moren-Grey, co-executive director and CEO, North Country Council
Andrew Noyes, director of operations, Loon Mountain
Kim Pickering, executive director, Western White Mountains Chamber of Commerce
Scott Rice, owner, Woodstock Inn, Station & Brewery
Dot Seybold, general manager, OVP Management Inc., North Conway
Christopher Walkley, vice president and commercial banker at Bank of New Hampshire
NHBR: From your perspective, how do you feel things are going economically in this region of the state?
Scott Rice: I think we're doing pretty well in the area. A lot is happening up at Loon and Riverwalk and all that type of thing. The challenge still is that it's seasonal, and no matter what we do, we have to realize it's harder to get people here in April and May, and the help situation is reasonably desperate, as far as getting good employees and keeping them for a long time. So you end up spending more because we end up keeping more people on year-round than I normally would have.
Kim Pickering: That's just the business of the business over here. It is still seasonal with the two high periods, but you know there is still a downtime and finding that workforce, and finding them affordable places to live is one of the greatest challenges here in the Lincoln-Woodstock area.
Kim Pickering, Western White Mountains Chamber
Michelle Moren-Grey: To add to that, we are seeing a lot of revitalization efforts, small economic development organizations forming and trying to creatively and innovatively solve some of the economic challenges [like] the main streets and hubs of communities and what is that unique flavor to them that fits into the bigger picture. So that's kind of the optimistic view that we are seeing, which is exciting.
Dot Seybold: I am in retail, so we all know what has been happening with retail, but we've been growing; we've added 60,000 square feet this past year.
One of our biggest challenges is working with local governments to facilitate development. And our tenants are having difficulties in getting good people, keeping good people. Otherwise, I think our traffic is strong, our sales are holding on.
For us, we are making our shopping an experience, and we are working very hard to create something new that is not typical of shopping centers. We are adding tens of thousands of dollars worth of art to create places for people to stop and enjoy the moment. They're on vacation and they want to experience vacation even when they are shopping. But it's a challenge for sure.
Janice Crawford: I think some of the issues that the chamber has been working on is the young professionals that are leaving our areas, which is of course a workforce issue but it's also, in my opinion, a vibrancy issue. It's the shifting of the old guard out and how do you do that if there isn't anybody to take the seat? We lose out when we don't have our young professionals stay in the valley. The millennials are helping us greatly with our outdoor amenity offers. We've got Granite Backcountry Alliance that is doing a lot of cutting for glade skiing and mountain biking so they're raising funds for those kinds of things. We are fortunate that recently the state of New Hampshire and the state of Maine took some Northern Border [Regional Commission] money and are putting it into the Fryeburg Airport, so that's a great example of working together on a big aspect of economic development that will help both of us.
We are fortunate that we have a lot of local fundraising capability, but it's about tapped out. We are going to have a beautiful music center, performing arts center. We now have the New England Ski Museum, which is part of the Franconia museum. We have a North Conway community center. We are raising money for a rec path. So a lot of infrastructure or amenities are being created.
Shauna Cameron: As far as Littleton Regional Healthcare is concerned, we are always trying to find medical assistants, nurses — so we are having the same types of issues that a lot of you are having as far as retaining good people. We are also always trying to find ways to ensure we have patient access, which means we also need to have patient services — transportation, things like that. That's always been a barrier that we've been trying to overcome. We are also growing, but then you also have a problem because you can't get the staff that you need to take care of the services that you are trying to provide, so it's a double-edged sword.
Shauna Cameron, Littleton Regional Healthcare
Andrew Noyes: I came here almost 35 years ago so our off-season has definitely gotten shorter than what they were, but still that's an issue. As far as Loon goes, I think I can probably speak for a lot of the ski resorts around — difficulties with labor is certainly an issue, but the lift mechanics, vehicle mechanics, electricians, plumbers — those are difficult to come by; they don't seem to be out there. And labor in general is difficult. We look for a lot more people in the winter, and this year it's not looking too bad, but I don't know. We don't have a lot of applications flying around.
Rice: We need 30 more people. We'll get 15, and we'll have 600 or 700 hours of overtime every week. Either that or you close shifts or hours or whatever.
Christopher Walkley: I see a bunch of varied things, from the tourist side to manufacturing, so I kind of see it all. I had three customer meetings today, all in different industries: one is a manufacturer up in Lancaster, one is a landscaper down in the Lakes Region and another one was tourist-related, and all have the same issue with labor. The landscaper's questioning whether he has to pull back. He could hire 10 guys right now. The manufacturer wants to add a new production line, but he can't find anyone to run it, so they can't expand and get the economies of scale. And then the tourism — same thing; they're having to cut back services because they can't find anybody.
I think affordable housing is a huge factor. When people are making these wages in the mid-teens and they are trying to pay rent for $1,200 a month, it's really tough. And then attracting young professionals to the area … I was born and raised in Laconia, went away for school, came back because I love this area. Why wouldn't you want to live in this beautiful place? I don't know the answer, but I wish we could figure out how we can get people from Boston, and keep people from going.
Seybold: You are right about all of that. It's a national issue, not just a New England issue, but I think it's more apparent in New England because we're getting older and older.
Cameron: But is it worse because we are growing? Which is good, but are we growing too fast to keep going?
Walkley: I think it's a little bit of both. I honestly think if we didn't grow at all we would still have the same issue, because people have been doing a lot with less for a long time.
Seybold: I have young people in my family that are struggling with these issues. They want to live where there is an enriched life, as you pointed out, number one. Number two, they have school loans. We strap these kids with $50,000 worth of school loans and say, "Get out there and get yourself a house." There's no house happening even if you have a good job, if you're making $50, $60, $70,000 a year. Having a house on that with paying your school loans is very, very difficult. So for me the housing issue is really the biggest issue.
Dot Seybold, OVP Management Inc., North Conway
Pickering: I think we are driving those kids that maybe would have not necessarily gone to college into a four-year degree, to burden them with these loans and then finding these jobs. You can come right out of a voc-ed and get a job at $22 an hour, and they'll pay you to go to a school to get those life skills, so I think we need to be better about maybe tapping into our schools; it's a hard thing to do — our voc-eds and communicating.
Seybold: Maybe it's a problem with the college loan system. I mean what kind of country can be successful when it's strapping their children, who are their future, with loans that we didn't experience until we were well established into our careers?
Rice: There's a stigma to vocational schools, I think. I'm not saying that it's true, I'm just saying that's what people think.
Seybold: The development that we're doing — we have a core of local plumbers, electricians, roofers that work with us. And we've done over 600,000 square feet of development in the last 20 years. One of our plumbers is getting a new boat because they are very successful, and we feel really proud about contributing to that. How do you get past that stigma?
Cameron: At Littleton Regional, we're building a "Grow Your Own MA" program. We go to the high schools and we talk to them about this being an option. Coming out of high school, we can put you in a LNA program. We'll pay for the program, you work for a year and then you decide if you like this kind of work, do you want to possibly be a MA [medical assistant]? Some of them do, and that is usually a two-year degree, so what we do is we get them set them up through White Mountains Community College and we pay for several of their classes each year. And then, at the end, they come out as a certified MA, and they have a job the whole time they are with us. So we are doing things like that because that's our biggest need.
Moren-Gray: It's really having those conversations with the emerging workforce and businesses about what's out there, what are the opportunities and what's needed. What do businesses need from the students or the school, and what does the school need from the businesses to support some type of process, system, program, however you label it?
Crawford: We have a leadership program, and as part of their education they have to take on a project and fundraise for it. One class, the class of '16, created Stay MWV and raised money to be able to give student debt repayment scholarships. They give $3,000 away, and that's about a year's worth of student debt. They are growing it by going to organizations that give high school scholarships and saying, "Hey, how about repurposing 50 percent of that money and putting it here to help people pay off their debts?"
This year's class has piggybacked on it, and they've created THRIVE, and what they do is look to the 16-to-19 year-olds and let them know that it's ok to not go to college, don't get into the debt. And the money they are raising is, if you are someone who wants to be an electrician, we can get you an apprenticeship with Don Whitelaw. We'll give them the money for that, so it's a way to try to get them to realize they can explore their jobs.
Christopher Walkley, Bank of New Hampshire
We have the programs. There are apprenticeship programs, there are internships, there are job shadows. But getting the entities that mouth it, to actually do it, is the tough thing. The THRIVE program has $4,000 to give away, and it took us three months to get into the voc-tech school, just to walk around and say hello to all the kids, and we've only received two applications. So it's a circle of problems.
Seybold: I know someone in our community, who should know better, who said to me, "There were all these student aid programs. These kids don't have to pay all this money to go to school." I said, "Well what do you think student aid is? It's financial aid — they are getting a loan." And this was an education for this person who said, "You're kidding me. Who would do that? She is someone who has a passion about the political system in our country and bases her thinking on the assumption that people don't need to go into debt to go into school. There's a disconnect somewhere.
Crawford: You know it's financial intelligence. We are not doing our job, and we're not doing our job because we are allowing the silos to remain, and we need good conversation without attitude.
Walkley: A lot of business plans come across my desk, and the lack of financial literacy of anybody coming out of school, even just to pay your rent, to pay your utilities, they don't understand that. They don't understand that a check comes in, you budget it out, and then it goes out, it's incredible. These kids are learning about the history of the country and yet they can't even balance a checkbook.
NHBR: Scott and Andrew, how do you look for employees?
Noyes: We have gone to trade schools and tried to establish relationships, and for whatever reason it hasn't worked out that well. We can't necessarily offer what can get offered in the southern part of the state, so they may want to end up going there, and so there's an issue there. But we do a lot of word of mouth, and we've waited almost a year to try to hire a vehicle mechanic — it took that long. We went by until we found someone.
You might be able to hire someone, or they might want to come, but they live in Laconia, or they live in Bedford, and it just doesn't work for more than a day or two. They're not going to commute that far. If they don't live here, it comes down to housing. We have our own employee housing.
Rice: In our business, we're not talking about electricians, plumbers. It's looked down upon as grunt work, or whatever. The perception of a lot of people is, 'I don't want to do that kind of a thing.' But we have our core of 40 or 50 that have worked here 10 or 15 years, and they make between $40 and $60,000 a year bartending, waitressing. They have 401(k) plans, they have vacation, they have paid health insurance — they have everything. And when we have a high school that only has 20 people in each class, there's not much to draw from there either. We have eight or nine of them working here, but it's reasonably desperate.
Like Andrew said, we do word of mouth. We do a lot through Facebook, advertising. We're going to a college job fair this week, you know, we do the J1 [visa] program in the summer, and we'll get like 18 kids to do that.
It's really hard because it can be a career if you want it to be, but people don't look at it that way. And it could also be a starter job for some kids.
Pickering: Scott touched on a point. Many of our businesses, and businesses that haven't before, are using the J1s to fill in the seasonality of this. I actually had a restaurant and a hotel saying last year they had to cut back on the services they provided because, even with the J1 employees, they didn't have enough to operate a full lunch schedule.
Noyes: We used to participate in the H2B program, and we'd have roughly 20 kids that would come. But that got knocked down to 33,000 for the entire nation.
Janice Crawford, Mt. Washington Valley Chamber
Rice: And you have all the agencies scarf them up, and you have to pay big money to get them.
Emshika Alberini: It's hard to find employees up in the North Country for sure. From the employee perspective right now, my business focus is on how to draw younger people, so to make all that happen, I keep up on job satisfaction. We make sure to keep up on what they really like — to make our corporate culture what they really want. We listen to them, but in having a new generation, let's say it that way, or even a different generation, trying to find the best corporate culture to fit their needs too.
Rice: I just want to say the only place I don't have any problem getting employees is if you're putting an ad out for a brewery employee — you get 50 applications. Are you sure you wouldn't want to wash dishes instead?
Walkley: I have a friend that owns a coffee place in Laconia and a burrito shop. He can fill the coffee shop 10 times over with baristas, cause it's the cool job — you get to wear the apron and all that stuff. The burrito shop he can't even touch.
Noyes: We have issues trying to find snowmakers, because it's bloody hard work, and it didn't used to be that bad, and you don't want to talk ill of any generation, but it just doesn't seem like anybody wants to do that kind of work.
NHBR: We've been talking a lot about entry-level and trades jobs, but how hard is it to recruit physician and other medical professionals to the area?
Cameron: We do have some trouble, and honestly it's hard to get a couple to come where one is a physician and one isn't. A lot of times we'll have an interview and the physician will be like, "I love this — hiking, biking, skiing. This is right up our alley." And then when you get the whole family involved in moving here, it all falls apart. Most of the time it's the other person can't get a job in whatever field that they're in.
Seybold: That's a community problem, where you need to reach out to your community. When you have a spouse who is a CPA or a primary school teacher, and say, "This is a package deal. Can you help me get this person a job?"
Cameron: We usually try and do some of that, but when there is nothing available, that's when we run into a block. But in some specialty areas we have a little bit more difficulty getting certain things — a neurologist or something else highly specialized. That's the nice thing about NCH [the North Country Healthcare alliance], because having those four hospitals together, we are actually able to say, bring in one neurologist, for example, or two — that's what we have now. And that can help take care of all of the area.
That's allowed us actually to bring on new services, but herein lies the problem again of workforce. Yes, great, we're starting a pain management center, we're starting a retail pharmacy — which is great, because you can get your medications before you leave the hospital and don't have to find your way if you don't have transportation to the next place to pick up your medication after you've had surgery.
Scott Rice, Woodstock Inn, Station & Brewery
There are a lot of things we are trying to do for the community, but I need the people to be able to staff the service to be able to provide it. So we keep going back to that same point.
NHBR: Michelle, you mentioned earlier this idea about revitalization in different communities. What were you specifically talking about?
Moren-Gray: We're seeing things like Littleton, which has had huge success with revitalizing their downtown and community development overall. Colebrook has done some similar stuff with bringing community members together to talk about how to move the community forward, what community development looks like for the community. Even smaller efforts — Whitefield has a small organization that's doing actionable items that are seen. Littleton started their whole River District project with just small demonstration projects, like the arches that go downtown, to kind of bring curiosity and vibrancy into a community hub.
And Littleton is definitely a showcase for something like that. It's been over a decade, as to what has been going on in that community. But it really starts with these small demonstration projects that really build community development.
It's the lens of looking at what community development looks like and community members gathering together and saying, "What is my community about and how does that look?" We're still surrounded by all the problems and challenges that are discussed at this table, and it's really going to take putting a variety of stakeholders together at the table to find solutions. We need to start mixing those conversations together, about business and school, health care and government, and all of that needs to really be commingled in a collaborative manner to make change.
Alberini: My vision for Littleton is I feel like we need a college, a campus. We need more of a push to build up the new generation. It's a little bit like building a utopian city.
Seybold: We have a community college, but it doesn't have a campus. You need a campus, because that brings in culture, that brings in all the people, and that brings in some dynamic interaction that happens because it's a college. We live near St. Johnsbury, and there are so many colleges in Vermont, but the town's just not quite interesting. I think we deserve to have one, right here.
Crawford: I know Granite State College is an adult learning campus, but they are switching up or creating another model for survival, for creating certification programs and training. I'm thinking — my little marketing brain's going — how could I market Mt. Washington Valley as the University of Mt. Washington Valley because we have everything that a campus would have.
Alberini: That would be cool.
NHBR: The idea of the revitalization and the preservation efforts is to create a more vibrant downtown, but isn't it also part of an effort to attract younger people, and is that working?
Moren-Gray: To some degree, yes, I mean we do have some of that going on in that community. But it's all the pieces to the puzzle too. It's making sure the school systems are good, making sure that you have pediatricians, and day cares and all of that to go with the full package. Because if you don't have that, then what would attract a young family or a single person that is looking to create a family, and then housing obviously falls right into that category.
Emshika Alberini, Chang Thai Cafe and POP-M
Seybold: What about art?
Moren-Gray: I think art is definitely an important piece of the community here.
Seybold: To give you an idea, in Kansas City, Mo., the community put in a regulation that — I think it started at 1 percent and it went to 2 percent of any new construction had to either be used to do your own public art and your own business, or to give your funds to an arts group that would do it. And now they're world-renowned for their public art — people come from all over the world to go see the public art over the last 25 years.
Rice: We have some vacant storefronts on this street, and I was trying to encourage maybe the town to go after some artists or galleries of people who want to set up shops in there. I mean the rent wouldn't have to be much, but they're getting nothing right now. That would be pretty cool to have four or five different artists on the street.
NHBR: Another statewide issue is the opioid addiction crisis. How is that effecting businesses in this area?
Rice: Speaking of where we get our employees from, we do actually get a lot from AA meetings, because we got a core of about 15 people that attend. My daughter was a heroin addict, so we've really tried to create a culture here of drug testing — not for marijuana — and a culture that we'll help you if you have a problem.
We just had one of our sous chefs off in Maine for three weeks. The idea is the drug testing is not to penalize. Of course it's still here, but we've kind of beaten it down and the people kind of self-police now. "He's high. I know he's high." Or whatever. So if we suspect them we'll drug-test them that day.
These kids are former addicts, and they're really good at spotting it. It's really helped us out a lot, but it's brutal. It's not a one-time fix, though. Usually for any of these kids it's going to take at least three or four tries. If you think you can go away to detox for a week and it's all over — it doesn't happen.
Seybold: How do you find the services?
Rice: We actually started something called the Bridge Project. It was a combination of the Rotary and a lot of the businesses in town. We've got an office over in Lincoln and a full-time employee. It's not just drugs, it's also financial counseling for people and things like that. The town and the churches usually funnel through Tracey to the Bridge Project, and she tries to find what they need, because it's also about helping people find the resources.
We also have Narcan behind the bar, cause I'm afraid a customer will be in the bathroom — because it happens all the time, let's face it. I mean it's bad. Especially if you have a bar situation you need it, just like you need an AED or anything like that.
Seybold: I think I'm going to start asking, "Do you have Narcan behind your bar?"
Rice: We go to the court and we get it for free.
Crawford: I'm a selectman, and two years ago we voted to let our police officers carry Narcan. I mean that's brilliant to me what you're doing. Do you have one or two people that you trained?
Rice: Once every couple of years we'll have the bartenders and manager go through the AED and the Narcan thing at once.
Crawford: You need to win an award — most visionary HR decision.
Rice: I have learned a lot from mistakes.
NHBR: Another topic is Northern Pass. Is that something that's a concern to you, or is it just something you just think is not going to happen anymore?
Rice: I think it's dead.
Seybold: I don't.
Walkley: I don't think it's dead. I think it will keep going.
Alberini: I don't hear much about it anymore.
Michelle Moren-Gray, North Country Council
Pickering: I don't think it's dead. At one point we did come out against it in its current form. At that time, it was all overhead. After that, it went through many different iterations of how it was going to come through, so we just kind of really watched and listened, and we left it up to the individual businesses if they wanted to do something on that. There is a definite need. Our power grid is failing. But is this the right solution? I don't know.
Rice: The people are very adamant on both sides, I don't even like to talk about it. It will pack this area so much because you're going to have a lot of construction and disruption during the whole thing. All the way up 112, all the way down R2 going through the intersection — you would have a lot of disruption.
Noyes: It's not like they go down with a backhoe and dig a trench and lay the line. It goes in stages, so it would take like three or four years.
Rice: I think people in Plymouth are very upset because it is going to screw up downtown Plymouth and things like that. I mean I think we need it, it's always the NIMBY, not in my backyard, thing. A lot of people think the wind towers in Plymouth look ugly. I think they look great, but I don't know. But it's a tough one up here, people don't want this. I would say bottom line they don't want it, period.
Cameron: But I know a lot of businesses that need it.
Rice: Our electric bill is crazy. But as a hospital, I can't imagine what your electric bill is.
Pickering: Or just turning on the chairlifts.
Noyes: I think the biggest thing that will help the grid for New Hampshire is natural gas.
Rice: That would help us more than this Northern Pass. The thing is with Northern Pass, I get mixed feelings about it being one of the biggest taxpayers in town — it would pay half the town budget in taxes.
Walkley: Same for a lot of cities.
Rice: They would pay a million dollars to the town of Woodstock in taxes. The town budget is 2 point something. But I think you'll find most people are against it.
Crawford: But that might be people, not businesses.
Walkley: Or line workers, or construction workers that would work on the project.
Rice: I think once they changed it, I wasn't so against it, you know what I mean. But I was definitely against it at the beginning.
Noyes: I'm from Easton. It was going to go through overhead, and then when they said they were going to bury it, it was even worse. I don't know why.
Rice: Nobody still wants it. They were very angry and emotional, so we don't talk about it.
NHBR: What do you think this area will be like three to four years down the road?
Rice: I would hope that we are going to see every storefront full, get lots of businesses in there, and maybe because of all the expansion hopefully that will at some point. And the Riverwalk and that type of thing — it's just going to bring a lot more people into town and hopefully stretch the seasons out a little bit and give people more things to do.
Pickering: Definitely seeing our community come together to welcome more businesses and expand a little bit more. I have received many phone calls asking for some numbers, what is going on in town, those types of things, just in the last few months, so that gives me hope that more storefronts will be filled and new businesses will be emerging.
Andy Noyes, Loon Mountain
Moren-Gray: To go along with the trend that we are seeing with revitalization, we'll see more pop-up community groups to work on revitalization in different forms, and those that are already working on that will grow and strengthen and these storefronts will be filled and there will be innovative approaches on how to build the economy.
Seybold: I am putting a lot of faith in our younger people and our entrepreneurs. I moved to New Hampshire in the '70s, and there was definitely something going on at that time. Where, within five, 10 years there was some real blossoming of these communities, and I think that young energy … I'm seeing it coming back. I'm hopeful.
Alberini: I think I saw a lot of empty storefronts when I first moved to New Hampshire, but now I don't see them anymore, which is great. I think we're getting there. When I travel, I always think why people like to go there. Why do people like to go to Brooklyn? If you have something cool up here, we'll have more to offer. I think we're getting there.
Crawford: I am going to stick my neck out and say we'll have 5,000 more people in the Mt. Washington Valley area, and we will have a lot of revitalization of buildings that we may have now that you might say, "Why isn't there someone in there?" Our outdoor recreation will be even more developed with our young Granite Backcountry groups and our mountain biking. I will probably be retired and a young vibrant outdoor recreator will take my place.
Rice: This is probably a lofty goal, but I am hoping with the programs we have in place that we are going to be able to help give better quality care to our community and hopefully curb the opioid issue. That's what we're really trying to aim for.
Noyes: To continue on the trend that we have been going on, which is good growth. We had a conversation a couple of years ago with workforce housing, I'm not sure where that's at, but it would be good to get that going again and see if we can make that roll. That would be, I think, a good boost for this area.
Walkley: I think in five years we'll at least have some solutions starting to be put in place. I think the conversations are happening more frequently now. They are happening in different venues, not just people coming together like this, but at a bar, in an office room, at a coffee shop, people are thinking. And I also think we'll start finding a way not only to attract people, but let's stop them from leaving in the first place. If we keep them to start, then we can build on that. And I think we'll find a way to do that through technology.