NH rents continue to climb
2015 rental cost survey shows another year of low vacancy rates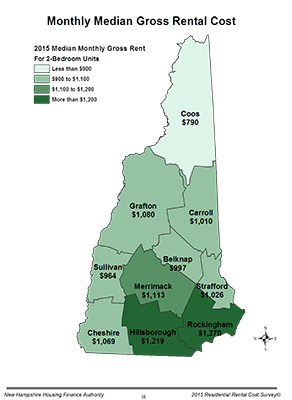 Once again, vacancy rates dropped while rents are increasing in 2015, continuing a long-term trend in New Hampshire's rental market, according to the NH Housing Finance Authority's annual residential rental cost survey.
According to the report, which surveys market-rate units across the state in order to gauge the condition of the rental market, the statewide vacancy rate has fallen to 2.2 percent in 2015 while the median rent for a two-bedroom apartment, including utilities, is at $1,157.
Three counties – Belknap, Merrimack and Rockingham – show vacancy rates at below 2 percent, according to the report, well below the 4 to 5 percent rate that most industry experts consider a balanced market. Below 4 percent constitutes a landlord's market and above that rate it is a renter's market.
Of the state's 10 counties, only one, Coos, currently shows a vacancy rate above 4 percent.
The state has seen almost a 10 percent increase in rents, including utilities, for two-bedroom apartments since 2010. Over the past five years, Grafton and Coos counties have seen a 15 percent increase and Merrimack and Hillsborough counties, have experienced a 9.4 percent and 11.9 percent increases, respectively.
In Grafton County and in the southern part of the state, these changes may be indicators of residents having to "drive until you can afford it," or living farther from job centers in the southern counties in order to find lower rents, the report notes. However, as the increase in rent indicates, when people are forced to relocate to more affordable areas, those areas experience increased demand and rents increase.
The large five-year increase seen in Coos County is likely due to that area finally catching up with the wave of increases the rest of the state has seen in recent years, according to the survey.
The low vacancy rates are seen as reflecting a wider trend away from ownership and toward renting, which was examined in New Hampshire Housing's 2014 study, "Housing Needs in New Hampshire." That study, which was performed by the NH Center for Public Policy Studies and Applied Economic Research, found that young households are holding off on homeownership due to student debt, limited wage growth and difficulties in obtaining financing.
With the expectation that aging baby boomers, who are currently opting to stay in their single family homes, will eventually downsize, low vacancy rates are expected to continue.
The survey also finds that renter household incomes are not keeping pace with the steady increase in rents. A renter would have to earn 124 percent of the median income, or over $46,000 a year, to be able to afford the statewide median cost of a typical two-bedroom apartment with utilities.
"This continued trend of low vacancy rates and elevated rents reflects both a demographic and economic shift in our state," said Dean Christon, executive director of New Hampshire Housing. "While slower population growth and the aging of our population means the need for new housing isn't as strong as it used to be, the results of this year's survey, combined with last year's Housing Needs in New Hampshire study, do suggest that there is a need for additional rental housing construction in our state."
Housing Needs in New Hampshire found that almost half of renters in the state pay more than 30 percent of their income on rent, and low-income families are particularly likely to be overpaying for their housing.
Copies of the Residential Rental Cost Survey and Housing Needs in New Hampshire can be downloaded at nhhfa.org.