NH real estate market ends year with still-tightening inventory
Median sale price rose to $266,000 in 2017 as number of listings shrank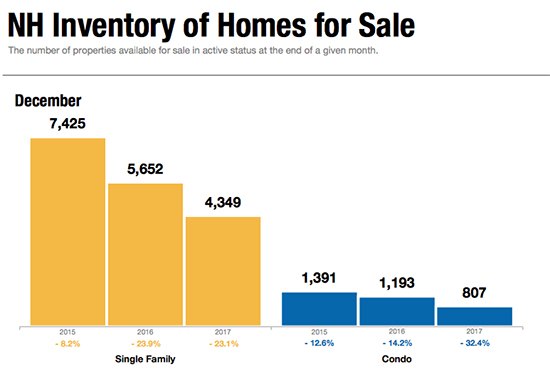 New Hampshire's real estate market ended 2017 the way it began, with rising home prices and tightening inventory.
According to data from the NH Association of Realtors, there were 1,318 single-family home sales in December 2017, 2 percent more than December 2016, with a median sale price of $271,000, 8.4 percent higher than a year earlier.
Meanwhile, the months supply of homes for sale stood at 2.9 at the close of the year, a full month lower than the 3.9 months' supply in December 2016. And total number of listings in December 2017 stood at 710, 8.6 percent lower than the year-earlier 777 days.
More signs of an ever-tightening market:
• There were a total of 4,349 homes for sale in December 2017, 23.1 percent fewer than the 5,652 for sale in December 2016.
• The percentage of listing price received was 97.8 percent in December 2017. In December 2016, the percentage was 97 percent.
• Before being sold, the average home was on the market for 75 days in December 2017. In December 2016, the average number of days before sale was 82.
For the entire year, there was a slight 0.6 percent increase in the total number of sales, rising to 17,733 from 17,623; a 6.5 percent increase in median sale price (to $266,000 from $249,800); and average days on market was 68 days, down from 83 a year earlier.
The picture was pretty much the same for the condo market.
The Realtors reported that there were 370 sales in December 2017, 7.2 percent more than the 345 reported a year earlier. And while the months supply stood at 2.0 at the close of 2017 – a whopping 37.5 percent fewer than the 3.2 months at the end of 2016 – median sale price fell to $192,000 from $194,000 year over year.
For the year, there were 4,842, up 9.3 percent from the 4,430 recorded in 2016; the median sale price of $192,000 was 3.8 percent higher than the $185,000 for 2016; and the average 60 days on market was 10 percent lower than the 70-day average in 2016.