NH jobs picture 'a laggard' behind Mass.
Study: Granite State post-recession employment growth half of Bay State's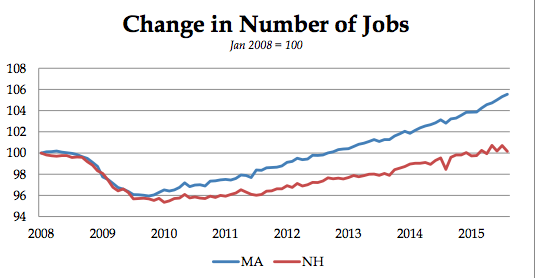 Never mind that New Hampshire has a 3.4 percent unemployment rate – one of the lowest in the country and a little more than a full percentage point below Massachusetts.
But when it comes to actual job growth, New Hampshire has been "a laggard" compared to its neighbor to the south, concludes a newly released report by the Josiah Bartlett Center for Public Policy, a libertarian think tank.
Indeed, if New Hampshire's economy recovered at the same rate as that of Massachusetts, it would have 27,000 more jobs, says the report, "A Tale of Two States."
Unemployment rates alone can be misleading, so the report concentrates on the number of jobs regained since the recession began and where those jobs are.
It turns out both states lost roughly the same percentage of jobs during the recession. In Massachusetts the number of jobs fell by 4 percent during the downturn; New Hampshire lost more than 4.6 percent.
But in the past 5½ years, the job growth in Massachusetts has averaged 1.6 percent, compared to 0.9 percent in the Granite State. That means it took New Hampshire 2½ years longer to retain the jobs it lost during the recession, reaching that mark in December 2014.
In addition, the study notes, there seems to be a differential of 3,000 between growth in New Hampshire jobs and the growth in the number of people employed. The report concludes that is because those people are commuting to Massachusetts.
The report doesn't go into the reason for the different levels of job creation, or the increased commuting, but Massachusetts did raise its minimum wage to $8 at the start of 2014 and $9 in 2015. It is scheduled to go up to $10 an hour in January. New Hampshire wages will remain at the federal floor of $7.25 an hour next year.
Whatever the reason, the study concludes, "if Massachusetts, a state that lost a congressional seat in 2010 because its population was not growing fast enough, and that has notoriously difficult regulations and high taxes, can both increase their labor force and add jobs, New Hampshire can certainly do better."