NH House panel mulls revived right-to-repair consumer electronics bill
Wednesday hearing to consider taking down 'barriers' to lower-cost fixes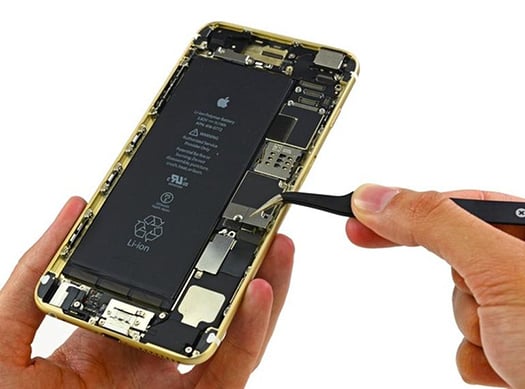 New Hampshire residents throw out roughly 1,500 cellphones a day even though almost a quarter-million of them a year visit a popular do-it-yourself website to try to fix them and other consumer electronics.
The U.S. Public Interest Research Group, which released those numbers in a report last week, hopes that state lawmakers think about them before they vote on a stalled right to repair bill on Wednesday. If the bill becomes law, it would be the first of its kind in the United States.
"It's clear that Granite Staters just want to fix their stuff. After all, repair cuts waste and saves consumers money," noted PIRG legislative advocate Kevin O'Reilly. "But too many of the things we are trying to fix have unnecessary barriers because most of the top manufacturers won't provide access to spare parts, repair software or service diagrams."
Manufacturers, however, warn of unintended consequences.
"Consumer electronics are critical to our daily lives, but that integration poses new security and privacy challenges," wrote Dusty Brighton, executive director of the Security Innovation Center, in an op-ed in the NH Business Review.
For the last several years, the state House Commerce and Consumer Affairs Committee has been trying to balance these two points of view. At the start of 2017, Rep. David Luneau, D-Hopkinton, co-sponsored a right-to-repair bill, but it hit a wall of opposition from manufacturers, ranging from makers of medical devices to tractors who argued that unauthorized repairs could result in death on the fields or on the operating table.
That bill went to interim. Then in January, Luneau, was the prime sponsor of House Bill 462, which attempted to take some of the concerns into consideration. But the bill still met resistance, and was retained for next year.
On Wednesday, Rep. Kermit Williams, R-Wilton, plans to introduce an amendment that would make it clear that it would be restricted to electronic equipment. Then the committee is scheduled to vote on the bill.
"I know that Apple is worried about the camel's nose under the tent," but that might be a good thing, Williams said.
'A level playing field'
When Massachusetts passed a similar automobile right-to-repair bill, manufacturers started negotiations with independent repair shops, giving them more access to the schematics and parts that would be needed to make the repairs. Williams is hoping the same things happens with electronics.
"We want to make a level playing field," he said. "We are not telling authorized dealers they shouldn't exist. We are just letting consumers make choices to keep the costs down."
That would suit PIRG just fine. Its report, "What are Granite Staters fixing?" relies on data from the iFixit web site. Some 245,000 Granite visited the site in 2018. (That's about the same rate per capita as other states the group has looked at,), O'Reilly said.
Aside from automobiles, four of five top items Granite Staters want to fix are consumer electronics: cellphones, laptops, wireless speakers and gaming consoles. The biggest issues? Battery, screen, port, hard drive and case.
"Throwing out a $1,000 smartphone because it needs a $40 battery is absurd," said O'Reilly.
'Very close' vote seen
Batteries became a big issue in 2017 when Apple admitted it was slowing phones down so a low battery would not crash the system, without telling its customers. In response to consumer outrage, as well as several lawsuits, Apple agreed to replace its batteries for $29 rather than the usual $79.
But Apple didn't make it easy for others to replace the batteries. It won't sell replacement batteries directly, and special tools are needed to install them. There are other problems as well.
For instance, some authorized dealers won't fix a phone with any sign of water damage detected with a special sensor, even though the actual damage might not have anything to do with water exposure.
It isn't just the cost that's a concern of bill proponents. It takes some 165 pounds of raw materials to produce each of the 1,500 cellphones Granite Staters discard each day. And while using a cellphone doesn't cause that much greenhouse gas admissions, making one does.
Williams won't predict what will happen at Wednesday's vote, or even if the vote will happen at all.
"It's going to be close," Williams said. "Very close."
Even if it does pass, that's just the first step. Once it is out of committee, the bill still has to pass the full House, the Senate and then be signed, or at least not vetoed, by Gov. Chris Sununu.