NH home sales heat up in May
Sales rise 8 percent, median price up 4.2 percent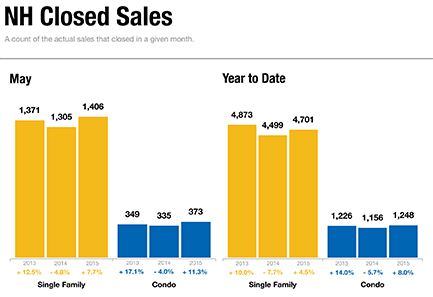 May was not just hot when it came to the temperature – the state's real estate market sizzled as well, according to data released by the NH Association of Realtors.
In fact, more homes were sold in May than in any other May in the past decade, the Realtors said in a report released Thursday.
And it looks like that hot market will continue, with double-digit increases in pending sales for both April and May – sales that are likely to close during the summer.
Sales were up 8 percent in May, while the median price of a single-family home rose 4.2 percent, to $242,500. That's $10,000 more than last year.
Year-to-date, closed sales are ahead of last year by 4.5 percent, while the median price increased by 6.2 percent.
Particularly active were the Seacoast and the Upper Valley. In Rockingham County, sales were up 28.2 percent in May, while the median sale price climbed 9.3 percent to $305,000. Grafton County saw a 22 percent increase in sales, and a 15.8 percent increase in price for a 73 percent volume increase.
Inventory is low – with less than 10 months' supply on the market, compared to nearly a year in May 2014 – but new homes are starting to return to the market, noted New Hampshire Realtors President Maxine Goodhue, a broker with Bean Group in Bedford and an 18-year veteran of the real estate industry.
"We anticipated an increase in inventory would be coming, and it appears that has begun," she said. "With prices steadily increasing and inventory as low as it's been, it was only a matter of time before those who were on the fence about selling put their homes on the market."
Getting 97.2 percent of the asking price helps.
Condos are also moving faster, with closed sales up by 11 percent in May and 8 percent year-to-date. The median price of those sales has seen a 2.3 percent increase both for May and year-to-date.