NH gets an overall 'B' grade for manufacturing sector
But once again it fails for transportation, distribution infrastructure in Ball State scorecard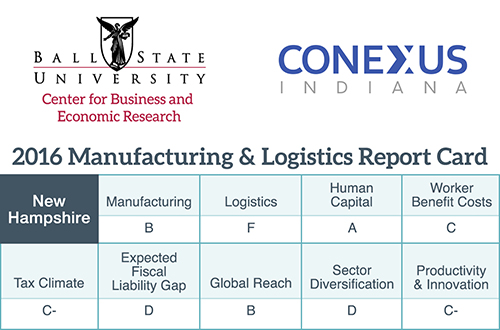 New Hampshire remains in the top dozen or so states when it comes to the overall health of its manufacturing sector, but there's definitely room for improvement, according to Ball State University's newly released 2016 Manufacturing and Logistics Report.
New Hampshire received a B grade for the overall health of its manufacturing sector, but an F for the health of its logistics (which include transportation and distribution infrastructure), according to the report.
The report grades each state on overall health of the manufacturing and logistics industries, the state of human capital, cost of worker benefits, state tax climate, expected fiscal liability gap, global reach, sector diversification and state-level productivity and innovation.
While the overall grade remains the same from Ball State's 2015 report, there were some changes in the grades for individual categories.
The state once again received an A in human capital and a C in worker benefit cost. But its tax climate, which last year earned a D+, was upgraded to a C-. And its grade for expected fiscal liability gap was dropped from a D+ to a D.
Also downgraded were global reach, which fell from a B+ to a B, and productivity and innovation, which dropped from a C to a C-. Retaining the same D grade was the sector diversification category.
The report is based on calculations of various government data, including from the U.S. Census Bureau, Bureau of Economic Analysis, U.S. Department of Transportation Center for Transportation Statistics and the U.S. Patent Office.