NH firm says it's done what GTAT couldn't do
ARC Energy produces sapphire for large-scale production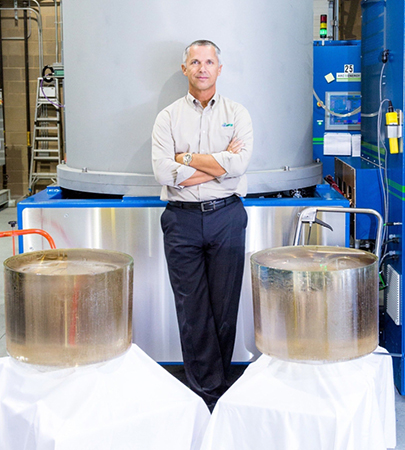 Merrimack-based ARC Energy has sold its first furnaces, which the company claims can do what the equipment manufactured by Nashua-based GT Advanced Technologies couldn't do: reliably produce sapphire in boules large enough to affordably be made into durable cellphone screens
The company made the announcement day after a bankruptcy court approved an Aug. 4 $75,000 settlement of a four-year-old lawsuit filed by GTAT against ARC. The settlement also resulted in the release of various claims charging that ARC stole GTAT's sapphire technology.
The suit also named Kedar Gupta, co-founder of both companies and ARC's CEO, and Chandra Khattak, ARC's vice president of technology and a former GTAT technology chief.
ARC has always maintained that its technology is different than GTAT's, and better. It points to the success of its CHES 500 furnaces, scheduled to be shipped for the first time in the third quarter of this year. (The company declined to disclose the quantity, unit price or total amount of the order.)
ARC claims its furnaces can produce 300 kg sapphire boules without cracking.
GTAT went bankrupt after an attempt to create and run a factory with 2,000 of its furnaces that failed to produce boules of 262 kg without cracking for Apple's mobile devices. Before that, it had sold furnaces that produced 115 kg boules.
"Our team has done a great job of developing a stable and repeatable process," said Gupta. "We are excited about the future of this product, and to aid the industry in solving their challenges."
The customer – which ARC did not identify – is not sure whether it would sell the boules for use by the mobile industry or the LED industry, ARC said. Either way, said Rick Schwerdtfeger, ARC's co-founder and chief technology officer, the large boules will be able to drive down costs in production of either product.
The furnaces were able grow larger boules, he said, because of an automated process that enables the operator to melt the sapphire seed at just the right time.
Both ARC and GTAT entered the sapphire business about 2010, but that market went sour over the following few years. GTAT, a public company, responded to the downturn by entering the material production business, signing a major deal with Apple in the fall of 2013. The technology giant fronted GTAT $414 million to produce sapphire boules for its mobile devices. But GTAT couldn't do it to Apple's satisfaction, and GTAT declared bankruptcy in October 2014. ARC, a private company, responded by downsizing from 120 employees to fewer than 50, but remained an equipment supplier, and focused on improving that equipment.
"We now hope to be able to grow back to our peak," said Schwerdtfeger.
In the midst of all this, the companies had been sniping at each other in the courtroom.
GTAT, which entered the LED field after acquiring Crystal Systems Inc. charged in May that Gupta and Khattak (a former employee of both Crystal Systems and GTAT) colluded to steal CSI technology.
But in its countersuit, ARC claimed that its technology is different and superior, and that GTAT was making "knowingly false and defamatory statements" in an attempt to "destroy ARC Energy," as well as to retaliate against Khattak for demanding stock options
Schwerdtfeger wouldn't comment on the lawsuit, only to say "it was cheaper to settle it."
GTAT said pretty much the same thing.
"Putting aside the practical challenges of proceeding to trial, further litigation with the ARC defendants (including any appeals) would impose substantial costs on these estates," GTAT's attorneys told the bankruptcy judge. "It would also present a significant distraction to GTAT's senior management."