Tourism promotion, 'sunny day fund' cut in budget compromise
But affordable housing fund, other programs remain intact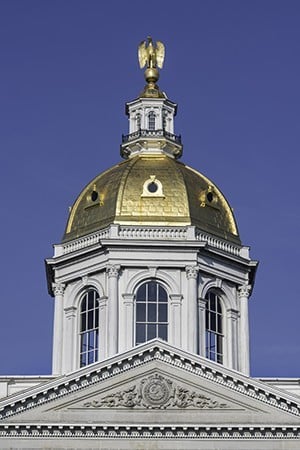 Tourism promotion and a "sunny day fund" for are taking hits in the state budget compromise reached between Gov. Chris Sununu and Democrats in the Legislature, but earlier documents reveal that other programs – especially affordable housing initiatives – were also at stake.
The centerpiece of the Tuesday afternoon compromise allows business tax cuts that went into effect in January (going down from 7.9% to 7.7% for the business profits tax and from 0.675% to 0.6% in the businesses enterprise tax) to remain in place. But a future round of cuts – which would reduce the BPT rate to 7.5% and the BET rate to 0.5% in January 2021 – won't take effect unless revenues from them are 6% higher than expected. And future tax rates could go back up if revenues are 6% lower than expected.
The budget also includes a switch to a single-sale factor in calculating business taxes for multi-state businesses. This should decrease taxes for companies based in New Hampshire and increase them for those out of state.
To make up for the loss of income from the tax rate changes that were included in the budget Sununu vetoed earlier this year, some programs had to be cut.
One of them is a "sunny day fund" for research and development grants to help key sectors of the economy, such as biotech and advanced manufacturing. The compromise budget removes $1 million of funding for the program.
The other is a tourism development fund, which was cut by $500,000.
But it could have cut $1.5 million, according to documents released late last week by Senator Majority Dan Feltes. And those two cuts weren't the only proposed reductions that survived in yesterday's budget compromise.
Feltes, a Concord Democrat who has announced his candidacy for the Democratic gubernatorial nomination, posted the documents online that purport to show "what the governor proposed cutting to fund his corporate tax break."
"The governor's Aug. 29 budget proposal" was actually the Legislative Budget Assistant's summary of what would be cut from the vetoed budget if the position of the governor – who reportedly wanted his original budget proposal used as a baseline with some major changes – was adopted. (The Governor's press office did not respond to requests for information about the document.)
Two programs to be cut, for instance, are among the top priorities of the New Hampshire Association of Realtors – money for the Affordable Housing Fund and creation of a Housing Appeals Board.
According to the document, if the governor's original proposal were to stand, $5 million would have been cut from an appropriation for the Affordable Housing Fund. That's the allocation the vetoed budget called for, on top of a $5 million-a-year appropriation from the real estate transfer tax.
Another $400,000 would have been cut from the Housing Appeals Board, where developers would be able to challenge decisions of local zoning boards without having to go to court. The vetoed budget called for $415,000.
"We strongly supported both items," said Bob Quinn, the Realtors Association's lobbyist. "We certainly hope that the budget would include funding for both of them." Quinn got his wish.
Also of concern for affordable housing groups would be $2.9 million less for homeless services and $650,000 for lead prevention services.
Other proposed business-related budget reductions included in the earlier document that were restored in the budget document include $200,000 for assistance to nonprofit business technology incubators and $200,000 from the state's Small Business Development Center.