NH bankruptcies continue to slow in April
Slight rise from March, but 17% lower than 2014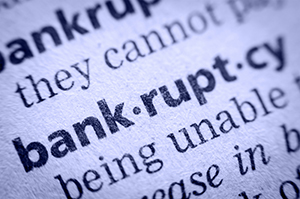 New Hampshire bankruptcy filings held steady in April, with only two more than in March, but there were 41 fewer than April 2014.
Some 199 bankruptcies were filed, 17 percent fewer than last year, and the smallest number since 1990 (not counting 2006, the year after the law was changed to make it more difficult for individuals to file for protection).
There were three filings by New Hampshire businesses:
• Hollis Country Kitchen LLC, Hollis, filed April 6, Chapter 11. Assets and liabilities: $100,000 to $500,000.
• Perdue Properties Inc., Manchester, filed April 10, Chapter 7. Assets: $2,905,610. Liabilities: $2,086,028.
• Dartmouth Motor Sales Inc., Newport, filed April 29, Chapter 7. Assets: $614. Liabilities: $280.